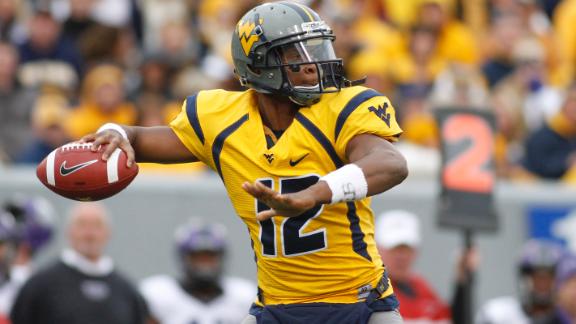 This year's NFL Draft has been one of the hardest to mock in recent years. There is not much parity between the potential first round draft picks, which makes it difficult to decipher where and when they will be drafted. But here at The Sports Post, we don't make excuses. Check out our 2013 NFL Mock Draft 2.0 and let us know what you think about who we have your favorite team taking.
1) Kansas City Chiefs: Luke Joeckel, OT, Texas A&M – No change here at the top, as Joeckel still looks like the guy Kansas City will hope to be their franchise left tackle. The Chiefs ranked 27th in adjusted sack rate last season. They're going to need someone to keep new quarterback Alex Smith upright, or he'll end up like Matt Cassel did against the Baltimore Ravens.
2) Jacksonville Jaguars: Dion Jordan, DE, Oregon – The first two picks appear to be locks right now. There is a minute chance that Jacksonville will take Geno Smith here, giving up on the Blaine Gabbert project altogether, but this is simply too high for Smith. Gabbert can breathe…for now.
3) Oakland Raiders: Ezekiel Ansah, DE, BYU – Ansah has drawn some unique, superhero-like comparisons. He's raw and inexperienced, but he's such a fast learner, he'll probably gain enough steam between now and draft day to warrant consideration for breaking into the top two.
4) Philadelphia Eagles: Eric Fisher, OT, Central Michigan – We had Milliner here in the Mock Draft 1.0, but decided to move Fisher up. Although either guy would fill a top need, Chip Kelly is an offensive coach and the pressure is on for him to turn Philadelphia's offense into the NFL's version of Oregon. To do that, he will need to protect Mike Vick. Fisher is the perfect guy to fill that job.
5) Detroit Lions: Dee Milliner, CB, Alabama – Milliner was a leader for the Crimson Tide during their championship run last season. The Lions could use a shutdown corner to help their middling pass defense. With his blend of speed, size and strength, Milliner could be that guy.
6) Cleveland Browns: Chance Warmack, G, Alabama – There is a major possibility that the Browns take Geno Smith here or even trade back to get him, considering they have no second round picks. It really all depends on how Cleveland's draft room feels about Brandon Weeden's future. To me, it makes sense to give Weeden another chance, while simultaneously bolstering his protection. If he fails to succeed again, they can take a quarterback in the first round next season, which has a deeper quarterback draft class.
7) Arizona Cardinals: Lane Johnson, OT, Oklahoma – The Cardinals were awful in every aspect on offense in 2012, and it started with the offensive line. They couldn't protect the quarterback, and they couldn't open up running lanes. Johnson has the versatility to do both.
8) Buffalo Bills: Geno Smith, QB, West Virginia – Geno Smith is the toughest player to predict. He really could go anywhere from the top-ten to the bottom-ten. There are two reasons for this: 1) Some scouts may not see him as a top-ten value and 2) There are not many teams looking for a quarterback right now. The Bills would be a good team for him to go to because he would be able to sit behind Kevin Kolb for at least a year to get the hang of this whole NFL thing.
9) New York Jets: Barkevious Mingo, DE, LSU – Jets head coach Rex Ryan has been able to get a lot out of young defensive linemen Muhammad Wilkerson and Quinton Coples. Mingo could be the missing piece to a defensive line that has struggled to consistently pressure the quarterback for quite some time.
10) Tennessee Titans: Shariff Floyd, DT, Florida – Floyd dropped from the #3 overall pick in the Mock Draft 1.0 to here. It really has nothing to do with him. The teams above simply have larger needs than a defensive tackle. The Titans will gladly take a top-five talent in this spot.
11) San Diego Chargers: Star Lotulelei, DT, Utah – A great run stuffer, the Chargers will hope that he'll demand double teams and free up space for teammates to make plays. Hopefully his heart condition doesn't hinder his athletic endeavors.
12) Miami Dolphins: Xavier Rhodes, CB, Florida State – This pick just makes sense for Miami. They need help at cornerback after losing Sean Smith and Vontae Davis to free agency and Rhodes is the best talent available at that position. Also, there are no qualified left tackles to replace the loss of Jake Long. Reaching for D.J. Fluker here is a possibility, though.
13) Tampa Bay Buccaneers: Sheldon Richardson, DT, Missouri – A mini run of defensive tackles here with Richardson following Floyd and Lotulelei. He can team up with Gerald McCoy on the defensive line, another addition to what could be an elite defense in 2013.
14) Carolina Panthers: Tavon Austin, WR, West Virginia – Cam Newton had a bit of a sophomore slump and could use some extra weapons. Also, Steve Smith is getting up there in age and will need to be replaced as the number one receiver soon. The Panthers have other needs, but Austin is too good of a talent for Carolina to pass on.
15) New Orleans Saints: Kenny Vaccaro, S, Texas – The Saints could use an upgrade at the safety position and the playmaking ability of Vaccaro makes him a solid value pick here.
16) St. Louis Rams: Cordarelle Patterson, WR, Tennessee – The Rams have been desperate for a number one receiver since Torry Holt retired. Patterson could be that guy to elevate Sam Bradford into a star. There is high risk/high reward with this pick and although I am leaning more towards the risk on Patterson, the Rams have to take it.
17) Pittsburgh Steelers: Jarvis Jones, LB, Georgia – Jones isn't a perfect fit at outside linebacker in the Steelers' 3-4 scheme, but he'll be tabbed as James Harrison's replacement. He's got a great motor and is a natural leader. If his neck holds up he could be the next in a long line of great Pittsburgh linebackers.
18) Dallas Cowboys: Jonathan Cooper, G, North Carolina – Cooper has dropped a bit in this mock draft, but it has more to do with teams drafting value over need. Cooper is a great talent, but he is a guard and that alone usually causes any guard to drop. The Cowboys will be ecstatic to fill a need with a value guy.
19) New York Giants: D.J. Fluker, OT, Alabama – Fluker could stand to improve his pass protection, but overall he's a versatile guy along the offensive line. He can also instill some youth to a Giants line contending with 32-year-old David Diehl and 31-year-old Chris Snee.
20) Chicago Bears: Manti Te'o, LB, Notre Dame – Sooner or later, the fake girlfriend scandal has to stop scaring teams away from Te'o. The bottom line is: this guy is a born leader and can produce. The Bears have a hole at MLB and should not be weary of Te'o's lack of speed. Brian Urlacher is not the fastest player and he did all right.
21) Cincinnati Bengals: Alec Ogletree, LB, Georgia – This pick remains the same as our last mock draft. Ogletree can help fellow linebackers Rey Maualuga and Vontaze Burfict break up plays, and continue the tradition of Bengals breaking laws.
22) St. Louis Rams: Eddie Lacy, RB, Alabama – The Rams may not be set on handing the keys to the running game to Daryl Richardson alone. Richardson proved that he could play last year, but maybe adding a guy who has experience in a two-back system like Lacy can give St. Louis an elite run attack. Adding Patterson and Lacy means it's put up or shut up time for Sam Bradford.
23) Minnesota Vikings: Desmond Trufant, CB, Washington – The Vikings need a corner to boost their 24th ranked pass defense and contend with Aaron Rodgers, Matthew Stafford, and Jay Cutler. Ok, maybe not so much Cutler, but they could still use secondary help.
24) Indianapolis Colts: Keenan Allen, WR, California – This is a very tough pick to predict. No quality players are available to fill their top needs so maybe they will take a top talent to fill one of their less pressing needs. Allen is a polished receiver and personally, I believe he will become the second best wide receiver to come out of this draft behind Austin. Having Andrew Luck throw him the ball won't hurt, either.
25) Minnesota Vikings: Sylvester Williams, DT, North Carolina – With their second pick in the first round, the Vikings should stay on the defensive side of the ball. Williams is a well-rounded player who can eventually replace the aging Kevin Williams.
26) Green Bay Packers: Matt Elam, S, Florida – The Packers need help in the secondary, especially at the safety position. Elam could become one of those late first round picks to make an immediate impact for a contender next season.
27) Houston Texans: DeAndre Hopkins, WR, Clemson – The Texans need more weapons in the passing game in order to balance out their offense. Kevin Walter, who's been a sleeper since about 2007, is not the answer, but Hopkins could be.
28) Denver Broncos: Bjoern Werner, DE, Florida State – The Broncos need to replace Elvis Dumervil and Werner could be that guy to do so. Werner has dropped due to his lack of athleticism, but maybe being matched up with Von Miller will be a good fit for him.
29) New England Patriots: Justin Pugh, OT, Syracuse – The biggest knock on Pugh are his short arms (32"). Other than that, though, he's solid both in the passing and running games, and has shown the work ethic and on-field awareness of a pro. Bill Belichick seems to insist on guys who play "the Patriot way." Perhaps the success of former Orange Chandler Jones convinces him to go back to the well.
30) Atlanta Falcons: D.J. Hayden, CB, Houston – Cornerback appears to be the way Atlanta will go with this pick, but the question is, who will they take? Jamar Taylor and Johnthan Banks are also candidates for this spot. We feel that Hayden is the best prospect out of the three, but it really only matters what the Falcons think.
31) San Francisco: Jonathan Cyprien, S, Florida International – The NFC champs will need a replacement for Dashon Goldson, who left for Tampa Bay. Cyprien needs to work on his positioning and awareness down the field, but if anyone can get him NFL-ready, it's Jim Harbaugh.
32) Baltimore Ravens: Kevin Minter, LB, LSU – The reasoning is simple. The Ravens have three major needs: MLB, WR, and S. There are no qualified receivers or safeties left on the board so filling their MLB hole makes sense. Minter is a special talent and the Ravens will be able to trust him in starting the new regime of the Baltimore Ravens defense.
Picks made by Joe Diglio and Matt Levine