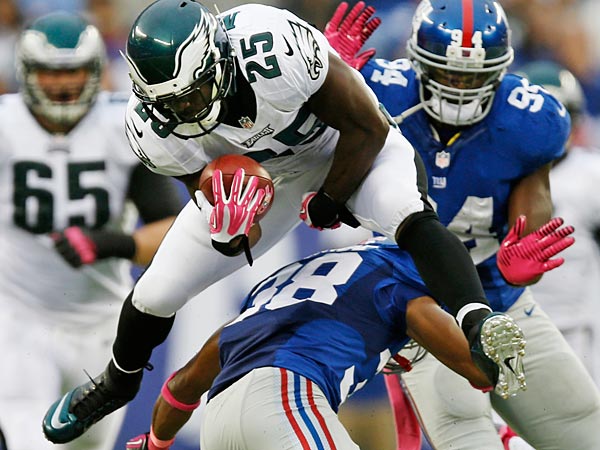 Oh good, we've finally reached the fun conference! I swear if I had to write about four more mediocre teams winning between six and nine games I would've given up writing forever and exiled myself into the mountains. Probably would've grown a Brett Kiesel beard too, could've been awesome. But no, we've finally reached the NFC, home of the good teams, land of the interesting divisions.
Wait, this is the NFC East? Sigh. Guess we need to crank out one more crappy division before we get to look at the real teams. Let's just get through this, ok? I've got a cabin to build.
4. New York Giants (4–12)
My suggested slogan for the 2014 New York Giants: Valar Morghulis. This team is living proof that all men must, in fact, die.
There was a point in the not-too-distant NFL past where having a team led by Eli Manning, Jason Pierre-Paul, Jon Beason, and Dominique Rodgers-Cromartie probably meant winning at least 10 games and making a reasonable playoff run. Now? You're thinking: There's a team led by Eli Manning, Jason Pierre-Paul, Jon Beason and Dominique Rodgers-Cromartie? Really? Has Jerry Reese been on vacation since like 2009? His entire team is dead and he totally didn't notice.
I imagine Manning isn't too bummed by this development. I mean … all things considered, this whole pro football thing turned out pretty well for him, right? He's no longer just Peyton's brother or Archie's kid, he has two rings he absolutely positively unabashedly does not deserve, he's made a boatload of money and stands to make quite a bit more when he gets cut in seven months and immediately becomes the most famous rider of the bad quarterback carousel. It really couldn't have work out better for him, right?
But yeah, he's going to have one more crappy year for the Giants before the Texans, Raiders, and Cardinals get to bid for his underwhelming services.
To be fair, it's not all on him. His offensive line is awful. Honestly it's like the whole front office is Lucy pulling the ball away from Charlie Brown. In fact, his left tackle, assuming Will Beatty's injuries persist, is Charles Brown. Charles Brown! The same guy who got abused by Robert Quinn so violently that Sean Payton claimed that he "saw enough" before benching him. That's something you say when you're watching a surgery gone wrong or an Adam Sandler movie, not when you're talking about a professional athlete! I'm not even bothering with the rest of this offensive line, that's more than enough.
Meanwhile, I'm taking bets on which will come first: Beason's annual season-ending injury, or Rodgers-Cromartie's annual season-ending apathy. You NEVER give DRC a long-term contract. EVER! He has a hard time trying even when he's playing for a contract on a Super Bowl contender. How's he going to fare when it's Week 7, his team is 2–4, and he knows he's making $15 million in guaranteed money regardless?
Early fantasy tip: look into any receiver playing the Giants from November on. Doesn't matter who. Seriously, evan if you can only get, like, Josh Cribbs or Mushin Muhammed or something, do it. You're going to want in on the fun, or in DRC's case, the lack thereof.
That's really the tone of this team. Everyone is old. Nobody is good. Eli is going to throw a ton of interceptions. They're going to check out in the middle of October.
3. Dallas Cowboys (7–9)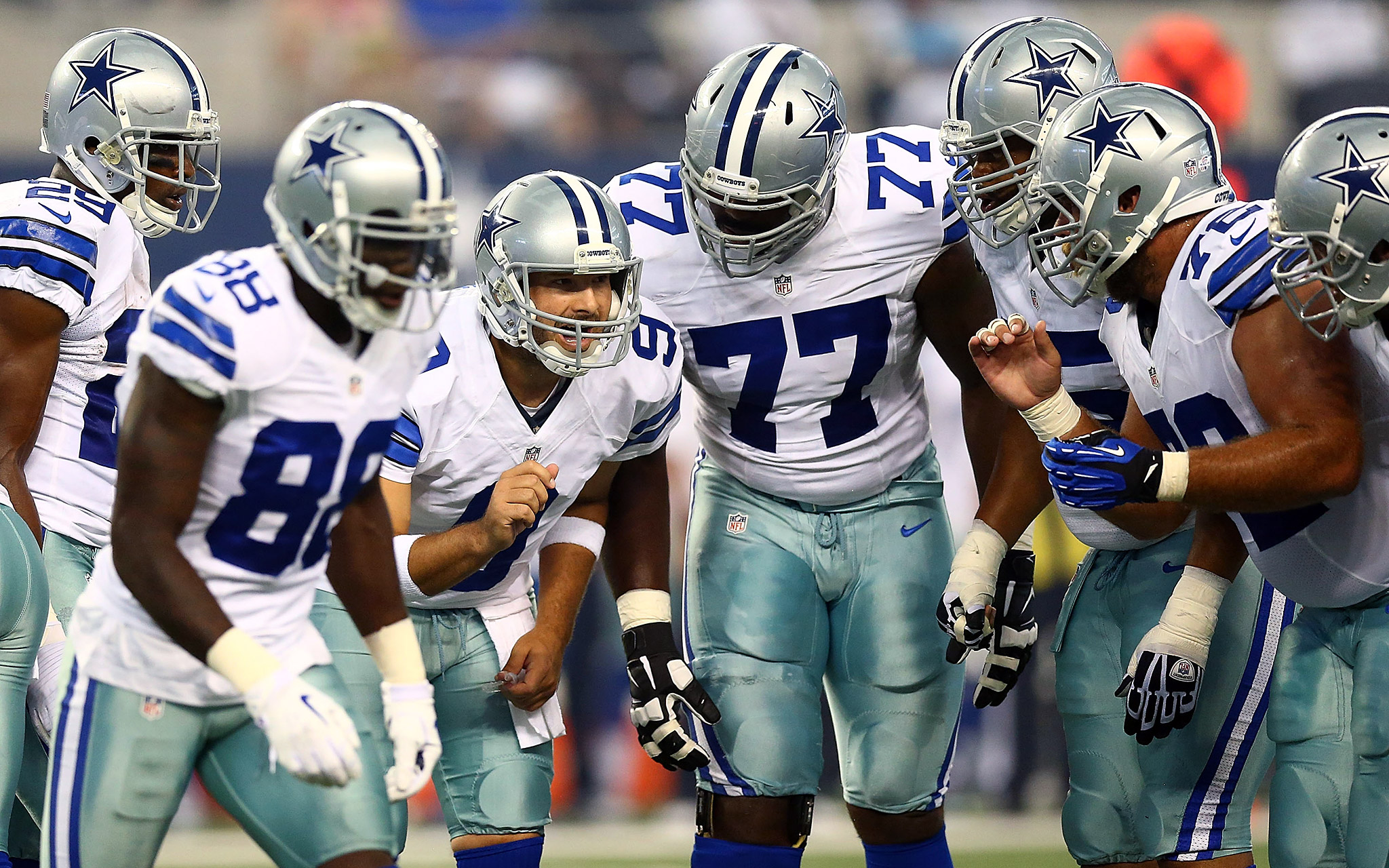 See, at least when the Cowboys suck, they have the dignity to be fun while doing it. I can't imagine a team has ever lost four straight Week 17 games that determined whether or not they won the division, but the Cowboys are going to have a lot of fun trying! Maybe this year when Romo goes down they'll let the fans vote on who gets to replace him. Mine goes to Jeff George. There's not enough Jeff George in my life anymore.
In relevant Cowboys news: Tyron Smith is now the highest paid left tackle in NFL history. This is one of those rare moments when the Cowboys do something right. See, the Cowboys have this nasty habit of drafting bad players, and this even nastier habit of re-signing those bad players to even worse contracts. If they hadn't signed Smith's predecessor Doug Free to a big contract, for example, they may have been able to keep one of the other few good players they drafted: DeMarcus Ware.
In fact, let's take a Cowboys defense roll call. Ware? In Denver. Jason Hatcher? Washington. Sean Lee? Torn ACL. Anthony Spencer? Returning from a very serious knee injury. Darren Woodson? Retired for a decade or so. He might start on this defense. That's how bad it is.
But Tony Romo is actually good, so is Dez Bryant. DeMarco Murray is going to be near the top of the league in yards per carry in the five or six games he actually plays. And they have a kicker locked up through 2020. There's enough here to win seven frustrating games. Not much more.
2. Washington Redskins (8–8)
The optimist's view of the 2014 Redskins: Robert Griffin III is back and healthy, DeSean Jackson is the first legitimate receiver Washington has had since Art Monk (I refuse to count Pierre Garçon on the grounds that he's always hurt), Jay Gruden isn't Mike Shanahan, offensive linemen were signed that weren't the same offensive linemen that played for this team last year, they only have to give St. Louis six more first round picks, the pass-rush is going to be very good, they get four games against the Cowboys and Giants, they get four games against the AFC South, there's no way they have as many injuries as they had last season, and Jordan Reed is going to be this year's Jordan Cameron in that I'm 100 percent sure he's going to catch like nine touchdowns in the first month and then no more after I trade for him.
The pessimist's view of the 2014 Redskins: Robert Griffin III was a stone's throw away from Andre Ware last year, DeSean Jackson may or may not be involved in a gang (did that ever get settled, by the way?), Jay Gruden isn't John Gruden, Several of last year's offensive linemen are still on the team, the entire Rams' defense is not on the team, I'm pretty sure DeAngelo Hall started his career on those mid-'70s Steve Bartkowski Atlanta teams, he's still younger than Ryan Clark by a full four years and karma is bound to catch up with them for their racist team name by now, right?
I tend to lie somewhere in between. The Redskins are going to be decent by virtue of not being the Giants or Cowboys, but they're going to be bad because … well … they're kind of bad. They have a bad secondary, a bad offensive line and very little run-defense. Going 8–8 is just sort of splitting the difference.
1. Philadelphia Eagles (11–5)
My biggest nightmare for the 2014 season: Mark Sanchez somehow starting a game, realizing that he has LeSean McCoy, Riley Cooper, Jeremy Maclin, and Chip Kelly and becoming good. If Chip Kelly turns Sanchez around we might literally see a New Jersey civil war.
Luckily, Nick Foles happens to be really, really, REALLY good. There's no way he throws 27 touchdowns to only two interceptions again, but the only piece his offense lost was Jackson. Considering Maclin is returning and he has another year in the Kelly system, he shouldn't be too far off from what he did in 2013. Assuming he plays at only 90 percent of that level, the Eagles win the division. Scratch that. If he plays at 60 percent of that level, they win this division.
The defense's challenge is simple: don't suck. That's it. That's all they have to do. The offense has McCoy, Foles and Kelly. They're going to score 90 points per game. If the defense can just be not horrible, that'll be more than enough. The problem? The defense will probably be horrible.
Their big additions to last year's defense? Nolan Carroll and Malcolm Jenkins. Both are defensive backs. Neither can cover anyone. Meanwhile guys like Trent Cole and DeMeco Ryans are a year older, and I honestly can't name half of the guys starting on this defense. Is Nate Allen, like, their fourth best player? I've never seen Allen make a play ever.
But this division sucks, and a great offense should be more than enough to win it. The quarterback is great, the running back is great, the line is great and the coach is great. They'll get beaten up pretty badly the moment they run into an NFC West team in the Wild Card round, but hey, it's always nice to say you made the playoffs.