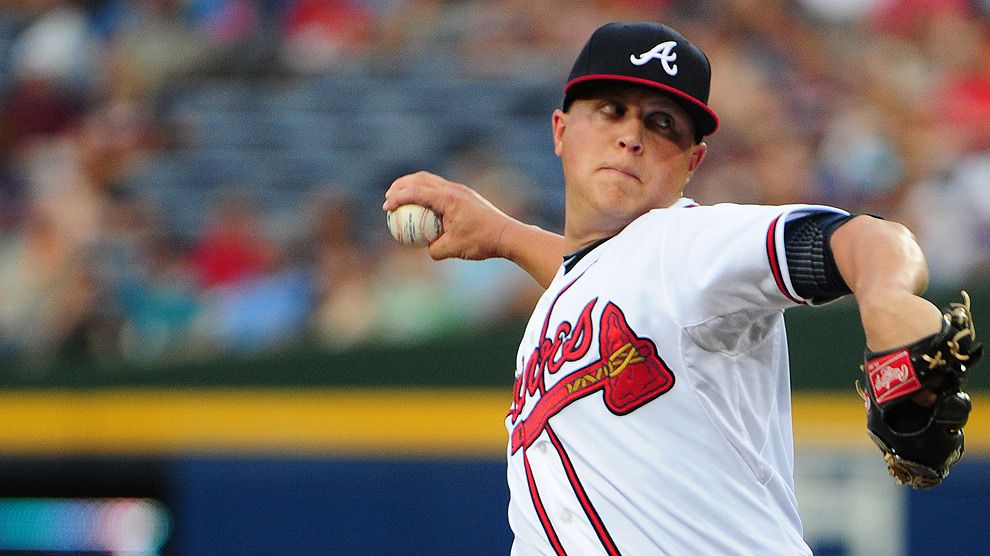 If there's anything in baseball that annoys me more than hypocritical fans, it's season-ending injuries. To be fair, the distance between the two isn't even close; season-ending injuries almost hurt me. This 2014 season has already presented plenty, all in the name of Tommy John.
How is it that every name on the following list is a very notable one? Are we any closer to preventing injuries nowadays than we were decades ago?
First, let's identify the handful unfortunate enough to have to undergo said surgery:
Kris Medlen – P, Atlanta Braves*
Brandon Beachy – P, Atlanta Braves*
Jarrod Parker – P, Oakland Athletics*
Patrick Corbin – P, Arizona Diamondbacks
Bobby Parnell – P, New York Mets
Jameson Taillon – P, Pittsburgh Pirates
*second time having TJS
All of these injuries have piled up within the last 4-6 weeks, which is sort of unbelievable when you think about it. All seven of these players were going to feature in 2014, and all were expected to provide a positive impact. Let's break them down.
Kris Medlen, Brandon Beachy
It's only fitting that these two be discussed together, as they were supposed to be the two men who would help anchor the 2014 Atlanta Braves starting rotation. Without them around, I imagine it's going to be tough for Atlanta to repeat as NL East champions. They also lost veteran Tim Hudson to the San Francisco Giants via free agency.
Medlen appeared in 31 games for the Braves in 2010 before being shut down for the season with a partially torn UCL in his right elbow. His line in that time span was 3.68/92/95. He recovered in time to only throw in two games in 2011, but for what it was worth Medlen was back. Then the 2012 season came along, and nobody saw this coming from Medlen.
He started off in the bullpen that season but after a stint down at Atlanta's AAA affiliate, he was ready to prove he could be a starter. And prove it he did, racking up a scoreless streak of nearly 35 innings in the process. He finished with an outstanding line of 1.57/40/63 over the course of 50 appearances (12 starts). Medlen, then 26, was going to be a staple for Atlanta's rotation going forward.
As the 2013 season took shape, Medlen became a full-fledged starter. He appeared in 32 games but started all but one of them, cruising towards a line of 3.11/84/94 in the process. While there was a noticeable slip in numbers, one has to understand that he was doing all of his 2013 work as a starter. The mix of relief appearances in 2012, while plentiful, doesn't paint as accurate of a picture due to the smaller sample size.
Then he left a start this Spring against the Mets with what looked like a serious elbow injury and that was that. The Atlanta Braves had taken their first big blow of the preseason. Unfortunately this was only the beginning.
Beachy was off to an electrifying start as the 2012 season progressed. Through 13 starts he led all of baseball with a 2.00 ERA. His line went 2.00/51/91 and he looked like a man who was incapable of being stopped.
In June, one month after throwing his first ever career shutout, Beachy was placed on the 15-day disabled list with elbow discomfort. One day later he was diagnosed with a torn UCL in his right elbow and would require Tommy John Surgery. His 2012 season had abruptly come to and end.
Beachy didn't begin his 2013 season until the end of July, replacing Tim Hudson who had been lost for the season due to a freak accident which led to a broken ankle. His line wasn't something we were used to seeing (4.50/122/110), but I assume a lot of that had to with rust.
Then Spring Training of 2014 came around. Beachy was ruled out for the season after just three Spring starts, amassing just under 7 innings combined in those outings. The worst part? This announcement came just one day after Medlen was diagnosed with a torn UCL. When it rains, it pours. I don't like to imagine what's next for the Atlanta Braves; they've suffered enough already.
Jarrod Parker
Like Medlen and Beachy, Parker was expected to be a big time starting pitcher throughout the 2014 season. The Athletics had already lost the elder Bartolo Colon to the Mets via free agency, and injury-plagued Brett Anderson was traded to the Colorado Rockies in the off-season.
Parker, 25, was set to be Oakland's Opening Day starter. You know what they say about the best laid plans, though. Parker was ruled out for the 2014 season in the middle of March. He was supposed to be the man going forward.
In the two seasons previous to 2014 for Parker, he averaged roughly 190 innings, with a line of 3.72/95/99 to go along with it. He once had star potential. While it's possible he still does, a second TJS isn't what one would describe as ideal.
Patrick Corbin
Corbin is only 24 years old and he had marked his arrival during the 2013 season over the course of 32 starts for the Arizona Diamondbacks. Entering 2014 he was assumed to be their ace. Because the human body is cruel, he will miss all of 2014 while recovering from TJS.
He threw just over 208 innings last season, posting a final line of 3.41/87/87 in the process. Was it the workload from 2013 that caused the elbow injury? I used to think the two were related, but we'll get to that.
The unfortunate pattern that has developed here is that these are all promising, relatively young players who will miss at least one full season and possibly never be the same. As for Corbin his career was just starting. Time will tell if he can return to form.
Bobby Parnell
Our next two victims were claimed over the weekend. New York Mets closer Bobby Parnell, 29, will miss all of 2014 as well as he recovers from TJS. His entire career has been spent with the Mets but plenty of it has seen him bounce between the minor and major leagues. Last season he came on strong as their closer, saving 22 games and making 49 appearances overall.
His last four seasons look like this:
2010: 41 appearances; 2.83/73/58
2011: 60 appearances; 3.64/98/86
2012: 74 appearances; 2.49/66/80
2013: 49 appearances; 2.16/60/64
Those last two splits in particular show just how much Parnell was improving year after year. Now though, all of that will be put on hold at least for one more season.
Jameson Taillon
The Pittsburgh Pirates have come alive in the last couple of seasons in large part because of MVP Andrew McCutchen and their plethora of prospects. Starting pitcher Jameson Taillon was supposed to be next in line, but those plans were dashed this past weekend when it was announced he would also require surgery.
He pitched roughly 148 innings last season and posted an ERA of 3.73 in the process. Coming into this season he was rated the 10th best pitching prospect and 22nd best overall prospect by Baseball America. At only 22 years old, one would think the future could still be bright. Unfortunately, these injuries are still fairly difficult to peg. It usually takes one full season at least until they're back to "normal", but here's to hoping.
What gives?
Is it pitch count? Is it the amount of innings heaped on young arms? Is it how fast these kids throw? The answers to all three of these age-old questions are suddenly popping up with an undetermined answer.
We've seen pitch count limits, inning limits, shutting pitchers down with a month or so left in the season, and so on. What do we do now? Six pitchers are done for the season and in need of TJS all before the end of April; that has to be some kind of record. The range of innings worked goes between 150-210. There are some pitchers who have eclipsed 200 innings in several seasons consecutively.
Every player is different, as is every body. With each passing day it seems as if injuries just happen. There's no controlling it.
After all of these efforts one thing appears certain: teams are no closer to knowing how to prevent these types of injuries than they were in decades past.
All statistics via Baseball Reference and Fangraphs