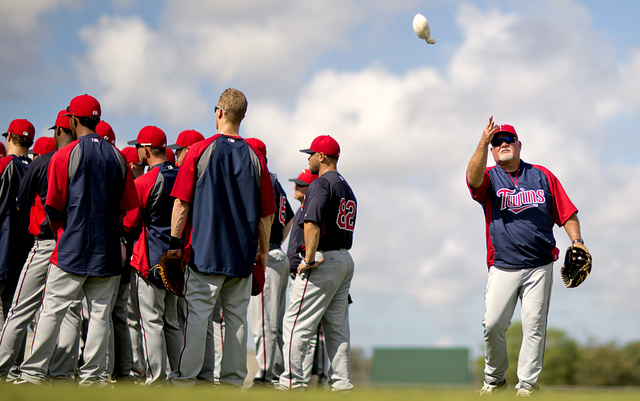 The job of a major league beat reporter is one that many covet, but few truly understand. In fact even I, coming off my first full year covering the Minnesota Twins, am still finding myself learning the ropes on pretty much a daily basis.
To be clear, nothing portrayed from this point on should be construed as a negative. The job, for all its perks, has some necessary evils, like talking to a pitcher who has just been shelled, or even a player who has been demoted, cut, or traded. But for all the negatives, there are overwhelming positives, like watching YouTube videos in the skipper's office and eating ice cream with the general manager. In fact, I got to do both of those in the same day last year.
And for all the the hubbub surrounding the job, let's be honest. Foundationally, it's still getting paid to watch baseball.
The one thing nobody ever told you about was the transcribing. Though, unless you were drafted straight out of high school into the big leagues, you probably had some idea what it was all about.
Every day you'll talk to the manager. That's about 10-15 minutes of chatter that'll need transcribing. Maybe you talk to two or three players. That's probably another 5-10 minutes. With the Twins, we have access to general manager Terry Ryan — or assistant GM Rob Antony — prior to each game. If you get Terry going, that's probably another 15-20 minutes worth of audio to dig through.
You learn pretty quickly what you will and won't need, and probably 85-90 percent of that audio hits the cutting room floor. Still, even a relatively quick typist will need to carve out 10-20 minutes — or more — during the pregame festivities to transcribe audio and figure out where it fits within that days assignments.
And this is all before the game even starts.
Everybody's beat is a little bit different. I covered the Twins last season for a radio station as an independent contractor. That meant a few things. One was that I was paid by the game, with reasonable concessions made for a parking pass and a press meal. I did not get rich off that per diem, mind you. And while I don't have a good grasp on the actual salary for a full-time beat report, I don't think many of them are getting rich off it, either.
Also, since there was no travel budget, I only covered home games. In that sense, it can be a bit difficult to generate a rapport with team staff when they only see you half the time. Still, as just one of two press box folks to see every Twins home game last year — Stew Thornley, the official scorer was the other — I think I managed to do pretty well in the 'face time' department. You learn to work ahead a bit, so you have some material while the club is on the road.
I think the thing people misunderstood most about the job was when everything started for each game. "Oh, so do you show up at like 5:30 or something?" folks would ask about a 7:10 first pitch.
Try 3:15ish, as the Twins clubhouse is usually open right around 3:30 for a typical night game.
This means I leave my day job — as a UPS Store manager — around 1:30 so I can head to the gym and get a quick workout and shower in before I head down to the ballpark. I usually arrive at my parking spot in the Warehouse District around 3:05, leaving me the perfect amount of time for the ten minute walk to the press box, and to get my laptop and materials settled before I try rush down to greet the security guard and Big Fella outside the clubhouse, and to try tweet out the lineup before anyone else.
That's another fun thing about the job. Twitter. You have news people want, and it's your job to break it into digestible pieces that are not only interesting, but honest. Nothing will get you in hot water quicker than having loose lips — or flippant fingers, maybe — when it comes to not knowing what is and isn't on the record. Pleading ignorance isn't really an option, so it's always best to double check, though the rush to be first — and the notoriety that can come with it in today's news environment — can often prove too alluring for even the most veteran of reporters. It's an ongoing battle.
Once in the clubhouse, there are some rules — both written and unwritten — that a reporter must observe. No tweeting in the clubhouse. No photographs either. See a player sitting in the massage chairs, or reading a magazine on the couch? Best to stay away unless you have a really good relationship with them. See a quartet of guys playing cards? Or a guy with his headphones in while focusing on his iPad or iPhone? Those are also guys to avoid, at least for the time being.
The other person with whom pregame contact is prohibited is that day's starting pitcher. Oftentimes, he won't even be in the clubhouse yet, and will mosey into the room right around the time the reporters are ushered into the manager's office for his daily media availability session.
The important thing to know about the manager's availability is that the television folks get preference. That night's sideline reporter will usually break the ice with a question or two, and the local affiliate or affiliates (plural) cameras will get the prime real estate right in front of the skipper. Sometimes after games they race to the front and you can't even get your recorder on the podium before the manager speaks. Gotta be faster, I guess.
The manager will speak at different times depending on first pitch times as well as his personal schedule and other media responsibilities, but this will typically run 10 to 15 minutes, and typically immediately precedes the club taking infield and batting practice on the field. Reporters are permitted to take in batting practice down on the field, as long as they stay in foul territory in roped off areas which do not reach past first or third base — unless special permission is granted. 
One sort of neat perk is to get to stand inside the dugout and lean over the railing and take the whole experience in, though the novelty of that wears off as the season wears on. This can also be a good time to sneak in an extra question or two that you might have missed in the earlier player availability, though you really have to pick your spots. These guys are on a tight schedule.
At this point it's about two hours to first pitch, and it's time to either run upstairs and transcribe or punch out a pregame column or preview, or stay downstairs and eat. Each reporter has their own routine, though everyone wants to be in attendance when the GM holds court. Mr. Ryan speaks at the bottom of the hour immediately preceding first pitch (so 6:30 for a 7:10, for instance), and his availability is typically the best part of the day — at least for this writer.
Terry is equal parts witty and sly. Somehow he manages to give out crucial information without divulging any confidential information. That's a fine line. He also does a great job taking tough questions head-on, which is essential for anyone at the helm of a team coming off three consecutive 90-loss seasons. He can give as well as he takes, however, and has been known to trade barbs playfully with the writers. For instance, he calls BBWAA president Lavelle E. Neal III of the Star Tribune "Cee," which is short for Cee-Lo, of whom Neal has an uncanny resemblance.
The thing about Ryan that endears him to most is that he's down-to-earth and genuine. He treats the cafeteria workers the exact same as he does the opposing general manager. He knows just about everyone by name in the entire building. He even conducts these pregame media sessions at a cafeteria table, often over a bowl of ice cream. Terry is currently battling skin cancer, but has a positive prognosis and hopes to be back at the park before April is over. Get well soon, Terry.
After the session with Terry is over, we make our way up the slowest elevator in history to get back to the box to get situated to watch the game. At this time, most writers will gather anything they didn't have time to get before the game, such as a scorecard, a team magazine, or a refreshment from the press dining room situated at the back of the box. In addition to food that can be purchased, media gets free coffee and soft drinks before and after the game.
Most writers will keep score during the game, though my role in the media is a bit different. I was brought on as an analysis writer, so while I certainly have plenty of focus on the present day — like notebook columns and breaking news — I also look to the bigger picture, such as statistical trends, possible future roster moves, and that sort of thing.
Watching the press box is a heck of an impressive thing; that is, the first few times. Like any other job, some — not all, though — of the luster wears off, and the eleventh game in as many days on a homestand in the middle of July can start to wear you down a bit.
The same goes for interactions with the players. My personal philosophy is to be brief and tight with my line of questioning, while trying to never force any sort of personal connection between me and a player. Does the player follow me on twitter? Doesn't matter. Did I see them out on the plaza on the way to my car? Don't care. My sole goal is to be professional in all my interactions within the club.
Postgame is an entirely different animal than pregame. I'm often the first down to the clubhouse, by virtue of A. standing up immediately after the final out is recorded and B. taking the stairwell in lieu of the eternal elevator. As a group, the media waits outside the clubhouse until the security guard opens the door, at which time we file into Gardenhire's office for his postgame remarks.
After that, we shuffle down the hall into the clubhouse to first chat with that night's starting pitcher, followed by everyone milling around to find their angles for the night. Maybe a guy had a clutch hit, or maybe he got hurt during the game. This is where each person/paper's coverage can take a different angle or twist, and can a good way each can differentiate themselves.
At that point the writers hustle upstairs to file updates to the running game stories they worked on during the game. They'll add quotes, move some things around, and try file them by their respective deadlines. Some nights that's 10:30, other nights it's midnight. I was fortunate in that respect, as my assignment each game was "Get it over here when you can." Consideration for the night editor goes a long way, however, and most of my stories were in well before the wee hours of the night.
Sound like a fun day? Better hustle back home. There's another game tomorrow.