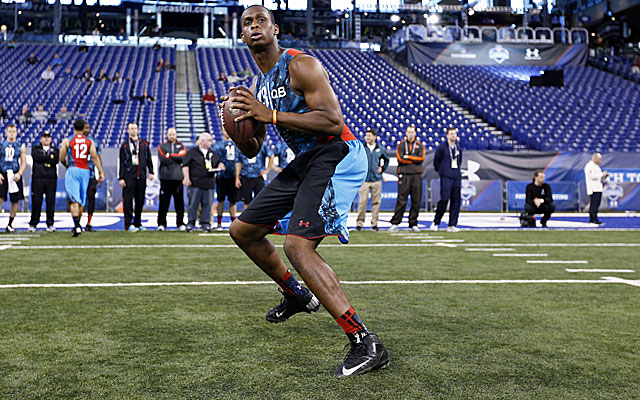 Will Geno Smith be a first round star, or a bust? (CBSsports.com)
It's time for a game. I'm going to say a name and you need to tell me the first NFL player that comes to your mind when you read it. The name is obviously Geno Smith. I'm going to assume that a large number of you either thought of Robert Griffin III or Russell Wilson. Why? Because that is what we do. Fans crave to compare players and when it comes to draft prospects, we usually lazily compare them to last year's draft prospects. It's just easier that way. But why RG3 and Wilson?
Other than the obvious fact that all three are black and for some reason all black quarterbacks are all grouped together, these three players are presumed to have similar styles of play. They are intelligent, great passers, and possess Olympic-type speed. If this was your thought process during your participation in my game, then I am sorry, because you are mistaken. Geno Smith is not allowed to sit at the cool kids' table. This does not mean Smith has to settle for the nerds and JaMarcus Russell's table (I'm going to assume there would not be much food left on that table by mid-lunch), but he is going to have to settle for the average kids' table.
Let's start with the positives and see what prevents Smith from being a member of the Russell clan. For starters, the guy is the epitome of a student of the game. He is extremely intellectual and depends on more than his athletic ability to thrive. He is very focused on his mechanics and is constantly trying to perfect them, which is important considering his NFL coaches are going to want to tinker with them. It's just what coaches do. He is an extremely hard worker, which also leads to one of weaknesses, as well.
Another important aspect of his game that cannot be overlooked is that Smith rarely throws interceptions. He has only thrown 20 picks in his three-year career as the Mountaineers' quarterback. The reason he is so efficient is because he understands the concept of going through his progressions. He is able to read defenses and therefore find his second or third targets if the first or second are covered.
Finally, Smith can make all of the throws. He has the arm strength to make the deep throws as well as the arm speed to make the short ones. He has the touch to complete sideline passes and the accuracy to make any throw he wants. And his speed does not hurt his stock, either. He ran a 4.59 at the combine so the evidence that he can hurt defenses is there. That is important because it is rarely evident in his film. He did not have many opportunities to run in the West Virginia offense, but why would he when he was dominating defenses with the pass?
Unfortunately for Smith, the analysis does not end there. Not everything is green and happy in the NFL like it was in West Virginia. My biggest problem with Smith is the inconsistency that infested his entire game. His accuracy is inconsistent, his confidence is inconsistent, his overall play is inconsistent, and his team's winning ability was inconsistent. It's like some games he's wearing the shoes from "Like Mike" and others some creepy guy with weird hair who works at an orphanage stole them. I'm sorry, but Crispin Glover still scares me.
But the problem is that if I were an opposing coach, Geno Smith would not scare me in the NFL. If things go his way, then obviously you are in trouble, but the minute something goes wrong for him, all hell breaks loose. He is too hard on himself to let little mistakes go and rather than learn from them, he let's them bother him. This is something that Cam Newton had to deal with this season. This is what feeds his inconsistency.
He is not mentally strong enough to handle misfortunes and you better believe he will have to deal with more misfortunes in the NFL than he ever has in his life on the football field. We should all be able to agree that he is not Cam Newton, RG3, Andrew Luck, or even Russell Wilson. He does not possess that type of talent so you can't expect his rookie season to be as rosy as theirs were. That makes me worry about his inconsistent play. Because if things start going badly early in the season, he could become a very consistent player; consistently bad. 
On top of his mental weaknesses, Smith often misses on throws. Sometimes his accuracy is on point, but on other occasions, he looks like a quarterback playing two-hand touch with his buddies. For the record, I know a lot of you guys think you are all-pro two-hand touch quarterbacks, but that was meant to be a bad thing. The biggest problem with Smith's poor accuracy is that it comes at times when there is no excuse for it. He could have a perfect pocket and an open receiver, but he will completely over or under throw them. And this happened a great deal during the season.
In the NFL, the majority of those poor passes will get intercepted and that's the problem with inconsistent accuracy. What is going to happen when he has all-pro defensive ends in his face? If he can't make the easy passes, how can we bank on him making the impossible ones?  My biggest problem with Smith is his team's winning percentage. I know his defense was one of the worst last season, but I still don't see that as a good enough excuse. He is the quarterback and could have had a larger impact in some of the losses. In losses to Texas Tech and Kansas State, his offense only put up 14 points.
That is not going to win you many games even with a good defense. In losses against TCU and Oklahoma, WVU only lost by one and I'm sure Smith at least had a chance late in those games to put it away, but he didn't and that's the concern. The worst loss came against Syracuse in the Pinstripe Bowl. The Mountaineers got manhandled 38-14 by the Orange, which is not a college football powerhouse by any means. He ended the game with a decent 151.7 passer rating (NCAA calculates passer rating differently than the NFL), but his fumbling issues and poor decision-making led to two safeties. Those were crucial in West Virginia's defeat. 
Another factor that takes some luster away from Smith's play is that he played with a wide receiver who will be a bonafide top-ten talent in the league in a few seasons. Tavon Austin is an elite route runner who can get open without the help of accurate throws. This means that there was less pressure to make perfect throws because Austin made it easier on Smith. The saying goes, "wide receivers don't make quarterbacks; rather, quarterbacks make wide receivers," but this situation is a little different. It's not like Smith only had good games because of Tavon Austin, but my point is that it certainly helped Smith to have one of the best wide receivers in college on his team.
What is going to happen if he gets drafted to a team with limited offensive firepower? If you ask me, I would say disaster. Just look at Blaine Gabbert or Brandon Weeden. Now Smith is definitely a much bigger talent than both of those guys, but the point stands that having a superior offensive target inflated his numbers in college. Now, it's time for the important part. Where will he be drafted? The biggest dilemma in drafts the last couple of seasons is that  bad teams crave for franchise quarterbacks.
The notion is teams cannot win a Super Bowl without a franchise quarterback. This seems to be a fact based on the last ten Super Bowl winning quarterbacks. Say what you want about Joe Flacco, but at the very least, he is a franchise quarterback. The problem that this notion unveils is that teams will reach for quarterback prospects much higher than they should. One of our contributing writers, Jon Mael, explained how the success of the rookie quarterbacks last year only made this problem worse. In reality, Smith should probably be a late first round pick to a second round pick.
In fact, he fits more of a second round pick's mold. He has an obvious upside, but that is partnered with an obvious downside, as well. But the majority of mock drafts have Smith going at number seven to the Arizona Cardinals, who desperately need a franchise quarterback after Kevin Kolb did not work out. Except what is going to blow your mind is that I would take Smith if I ran the Arizona Cardinals. Although I fully understand that Smith is not even close to as safe of a pick as Luck or RG3, he is a much safer pick than the rest of the quarterbacks in the draft.
Yes, the Seahawks struck gold with Russell Wilson in the third round last year, but they did not draft him expecting him to start right away. They got lucky. In general, you cannot expect a drafted quarterback in the third round or later to start immediately. With that logic added to the fact that the Cardinals already tried to find their franchise quarterback through free agency and failed, Smith has to be their guy. No position is going to turn Arizona around faster than a quarterback.
If Smith does not work out, though, then they will just have to start over. But as they say, our biggest regrets are not the things we do, but the things we don't do. Based on the odds of finding a franchise quarterback through the draft, the Cardinals and any other team deciding whether Smith is the right pick have to take the risk. The jury is still out whether Smith will pan out or not, but either way, he will get his chance.
By: Matt Levine
Twitter: @Matt_TFJ