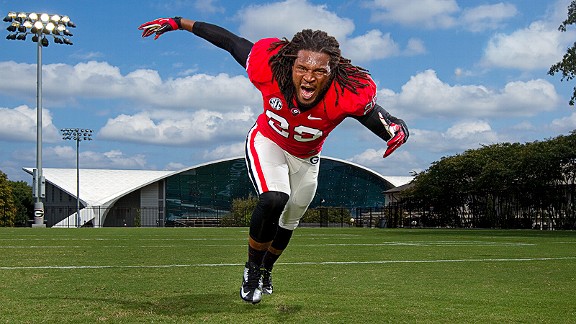 Jarvis Jones (Kelly Kline for ESPN The Magazine)
A month ago, The Football Juice's Big Board listed linebacker Jarvis Jones as the fifth best prospect in next month's NFL Draft. Ross Keith went as far as to say that Jones had a case for being, "not only the best defensive player, but the best overall player in this draft." But his injury situation was a serious cause for concern.
In his freshman year at USC, Jones suffered a neck injury that caused him to miss the final five games of the regular season. Doctors diagnosed him with spinal stenosis, an abnormal narrowing of the spine, which in Jones' case was located in his neck canal. The following, team doctors still would not clear Jones to play, so he transferred. After passing medical tests at the University of Georgia cleared Jones to play, he became a Bulldog.
Now, I know different doctors can make different diagnoses, but USC's doctors saying Jones couldn't play months after his injury does not bode well. He hasn't missed significant time since, but his long-term durability is a question. If he can stay healthy, though, he could be the steal of the draft. He's a three-down guy with great instincts and has good closing speed on ball carriers. In his two All American seasons at Georgia, he recorded 44 tackles for loss, 28 sacks, and nine forced fumbles.
Despite his impressive numbers, even Jones' talent has come into question as of late due to his lackluster pro day. After skipping a chance to workout at the combine, Jones said he thought he put on a good performance, but his 4.92 40 time and his 20 bench press reps at 225 lbs raised some flags about his speed and strength.
Still, he's produced on the field, and if he's able to actually stay on it, there's reason to believe he'll continue to do so. Jones may not end up the top five pick he was once thought to be because teams may be scared off, but his talent outweighs any questions marks. He should be gone by the middle of the first round. A team like the New Orleans Saints at 15 or the Pittsburgh Steelers at 17 would be wise to ignore the league talk surrounding Jones and snatch him up before he falls any further. Both teams could use a pass rusher, and he could give them a top tier talent provided the rest of the league scares itself into letting Jones slip.
By: Joe Diglio
E-mail: [email protected]
Twitter: @Joe_Diglio