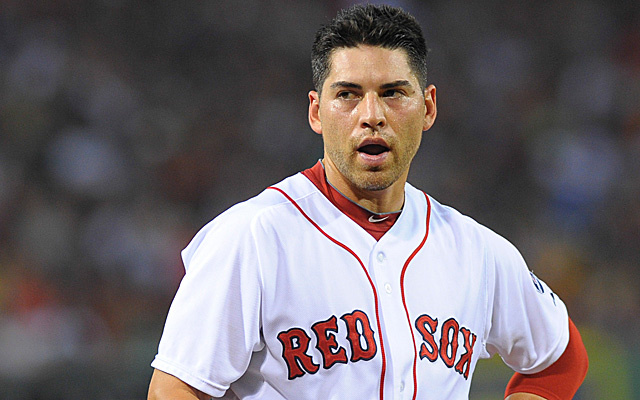 Were you watching closely?
Tuesday was the busiest off-season day in recent memory and we haven't even entered Winter Meetings yet. Those begin Dec. 9. For now, let's break down a day that featured a handful of necessary free agent pick ups, two notable trades, and one huge splash on the East Coast.
Free Agents
Four needs were met on Tuesday, but one particular free agent signing will end up dominating the headlines for days to come. 
Jacoby Ellsbury
The Ellsbury news was by far the biggest of the day. Late Tuesday night, the New York Yankees finalized a 7-year/$153 million contract with a team option for an eighth year to bring the outfielder from Boston to New York.
Reportedly, they are still in on re-signing free agent second baseman Robinson Cano. They've already signed catcher Brian McCann to a contract worth $85 million, and they are still going to look for starting pitching help.
Through seven seasons, Ellsbury has posted averages of .297/.350/.439/.789. He doesn't hit for power, other than his fluke 2011 season in which he hit 32 home runs. Including that season, he's hit just 65 home runs total.
What Ellsbury does do very well, though, is steal bases. He's stolen 241 bases in 7 years – including totals of 50 in 2008, 70 in 2009, and 52 this past season.
The biggest issue for Ellsbury is his health. He played in just 18 games in 2010 and only 74 in 2012. The Yankees have experienced lengthy injuries to expensive players time and time again (Granderson, Jeter, Teixeira, Rodriguez). Their playoff chances can ill-afford another one.
What does Ellsbury's signing mean for the rest of the American League? I'll have more on that later in the week, including whether or not New York overpaid for him.
AJ Pierzynski
How much is a veteran catcher worth? Well, the Red Sox believe AJ Pierzynski is worth $8.25 million for one season as the two sides agreed to terms Tuesday afternoon. This all but guaranteed the end of the Jarrod Saltalamacchia era in Boston, but more on that shortly.
In Pierzynski, the Red Sox are getting a fiery individual who has hit for a solid average throughout his career. The mark stands at .283, and his career low in batting average came in 2005 when he hit .257 for the Chicago White Sox.
His 16-year career has included four different teams, and although he's going to be 37, Pierzynski had his best defensive runs saved mark at 8. Interestingly enough, he threw out 33% of would-be base stealers – also a career best.
He's got solid pop for a catcher, as evidenced by hitting 10 or more home runs in 9 of his 16 seasons. He also has more doubles than walks in his career (356 to 259). I'm curious to know how a catcher can lack that much plate patience and still be productive.
Whatever the case may be, signing Pierzynski fills a need. Speaking of which, what about catcher Jarrod Saltalamacchia?
Jarrod Saltalamacchia
The Marlins happened. Saltalamacchia, who was born in Florida, agreed to a 3-year/$21 million contract with the Marlins. Boston opened the door to Saltalamacchia returning to his home team by seemingly moving on early in the free agent process.
In Saltalamacchia, the Marlins get a lot of power. He's hit 55 home runs in the past three seasons and will be looking to add to that total. Also, having one more capable bat in any lineup is never a bad idea. The Marlins need help all over the diamond. This is a good start.
At the end of the day, Salty is a capable catcher. He only possesses a .246 career average mark to go along with a .310 on-base percentage, but $7 million per year is a reasonable price for the Marlins to pay. Considering how their franchise is run, though, he'll be traded by the beginning of his second season.
Justin Morneau
Morneau had spent his entire career as a member of the Minnesota Twins before he was traded to the Pittsburgh Pirates this past season. Now he'll serve as a fill-in for Todd Helton after being acquired by the Colorado Rockies Tuesday afternoon.
The deal guarantees Morneau $13 million over two years. I believe even that amount is a bit steep as his numbers have steadily fallen off the past few years.
Regardless, this move again fills a need. For Morneau, this gives him a couple of seasons to teach the younger folks and possibly ride off into the sunset after what has been an admirable career.
Joe Nathan
Since inexplicably trading Doug Fister to the Nationals, the Detroit Tigers have been going in an odd direction. Even after trading Prince Fielder, the Tigers still had plenty on the offensive side of things. Now, though, their starting rotation isn't as deep as it was with Fister.
Nathan, 39, is the closer. He's recorded 80 saves combined over the past two seasons. That's all well and good considering he helps stabilize a bullpen that had to rely on Joaquin Benoit this past season, but the Tigers will have to make sure they make it to the 9th inning with the lead first.
At the end of the day, having an established starting pitcher will always trump having an established closer. Starters get you to the playoffs; relievers get you through the playoffs. The Nathan deal is rumored to be worth $10 million per year.
With Fister not set to become a free agent until 2016, the Tigers took a risk in trading away a starter who they could have used the money on. Instead, they gave that to Joe Nathan. As is stands, Fister is only 29. As it stands, I believe the Tigers made the wrong decision getting rid of him.
Trades
Can Heath Bell begin anew… again?
Heath Bell has had an interesting career, but one that is not surprising for a closer. After recording 132 saves between 2009-2011 with the San Diego Padres, Bell was signed to a 3-year/$27 million contract by the Miami Marlins. He didn't fare well.
With Miami, his ERA skyrocketed to 5.09 from 2.44 in 2011, his ERA+ decreased from 146 to 80, and he was demoted from the closer role while only being able to record 19 saves. The magic was gone, it seemed.
In October of 2012, the Arizona Diamondbacks acquired Bell in a three-team trade between the Oakland Athletics and Miami – the Marlins agreed to pay $8 million of his remaining $21 million. He didn't do as poorly, but he was far from his Padres form.
With Arizona compared to 2012, his ERA decreased from 5.09 to 4.11, his ERA+ increased slightly from 80 to 93, and he was again inconsistent in the closer role as he recorded only 15 saves.
On Tuesday, he was dealt to the Tampa Bay Rays as a part of a three-team trade that involved the Cinncinatti Reds. The Rays are hoping they have in Bell what he had in San Diego. The acquisition of Bell also fills a need – their former closer Fernando Rodney is a free agent.
Also coming over to the Rays is 33-year-old catcher Ryan Hanigan. In 7 years, his career averages represent solid, consistent production: a .262 average and .359 on-base percentage is nothing to scoff at, particularly for a catcher. However, in 75 games last season, Hanigan was at his worst. His numbers plummeted: .198 batting average, .306 on-base percentage, and an on-base plus slugging mark of .567.
The Rays have to hope that the down year was just a fluke as they have already signed him to a 3-year/$11.75 million extension as part of the trade agreement. As for Bell, they'll pay $5.5 million of the remaining $9 million. Money is constantly an issue for the Rays, but they are quite good at making these small moves and temporarily reviving careers. With the departure of ace David Price imminent, the Rays better make sure they're hitting all of the right buttons here.
Have the Astros begun to turn the corner?
Late last month, I broke down the Houston Astros and their rebuilding process. On Tuesday, they took one small step in the right direction by acquiring Dexter Fowler from the Colorado Rockies for outfielder Brandon Barnes and young right-hander Jordan Lyles.
On paper, I believe this is a great move for the Houston Astros. While Fowler won't blow you away with his numbers, he's got a .270 career average and consistently gets on base, holding a .365 career mark. He's averaged 10 home runs, 13 triples, 29 doubles and 20 stolen bases per season over his 6 year career, is reliable enough in center field, and is an exciting player who can teach the Astros' younger players a thing or two about the game.
On Fowler, General Manager John Luhnow had this to say: "One of our goals this off-season was to bring in an outfielder who can spark our offense. Dexter is an exciting player who can help with the bat, with his legs, and with his glove."
As for the Rockies, time will tell if this trade benefits them. Brandon Barnes is 27 years old and has only played one full season at the major league level. In 136 games, he hit .240 with an OBP of .289 and struck out 106 more times than he walked (127 to 21).
Barnes is a slightly better fielder than Fowler is, but at this point, that is all he is.
The other unproven is 23-year-old starter Jordan Lyles. Acquiring him filled a need, but let's take a look at his numbers through three seasons.
In 65 career starts, Lyles has an ERA of 5.35, a less impressive ERA+ of 74, and his strikeout to walk ratio is less than ideal (259 to 117). He's still a kid; perhaps he needs another year or two to find his groove. Unfortunately, he'll have to find it in the hitter-friendly park that is Coors Field. He's given up roughly 17 home runs per season up to this point. Look for that number to steadily increase.
On Coors Field, Lyles had this to say: "The park is obviously different. A lot of people don't like going there, but I'm up for the challenge and I think it's going to be fun."
Right now, I believe Houston has won this trade. However, it will be easier to give a conclusive judgment in a couple of seasons.
Coming up next
For now, we can all take a deep breath. Days like this don't come around very frequently during the off-season. This particular day had a little bit of everything: notable trades, a handful of signings, and a huge name coming off the free agent board.
Stop by throughout the week for articles that break down the Ellsbury signing, the Fister trade, Cano, and more. Until then, I hope you're enjoying this as much as I am.