If the brothers Thompson aren't on your MMA radar, they should be. While many of the sport's biggest names battle it out on the murderer's row of the 170 and 185 pound divisions, two karate and kickboxing prodigies have been quietly climbing the ladder with a unique blend of world-class karate striking and Machado Jiu-Jitsu.
Stephen "Wonderboy" Thompson, who Georges St. Pierre calls "the greatest striker in the world," is 9-1 in his professional MMA career. He also boasts a perfect 57-0 record as a kickboxer. His younger brother, Evan "The Titan" Thompson, is also a pro MMA fighter. He fights for Legacy Fighting Championships and remains undefeated.
But there's a lot more than cool nicknames that defines the Thompson boys. Their accomplishments speak for themselves, and, in a relatively short time, they have proven they have the skills, charisma, and athleticism to make a huge impact in MMA.
"Wonderboy" most recently earned performance of the night at UFC 170 with a first round knockout of Robert Whittaker, earning his fourth win and third KO inside the octagon. He's gone 4-1 with his lone loss coming via decision to Matt "The Immortal" Brown.
The night before he fought at UFC 170, younger brother Evan added another win to his unblemished professional record. In just under a year, Evan has quickly taken the Legacy Middleweight division by storm, winning all four of his professional bouts. He was also recently promoted to brown belt in Jiu-Jitsu by Carlos Machado.
It is obvious that the Thompson family values are characterized by martial arts discipline, and when The Sports Post had an opportunity to speak with "Wonderboy" Thompson, he articulated how much fighting meant to him and his siblings.
"When we were kids growing up," he said, "Most people sat around the table playing board games or watching the family TV show. As a family, we got together and watched fights. We watched boxing. We're a tight knit group. Fighting is in our blood, it's who we are."
The driving force behind the Thompson family's commitment to martial arts excellence is, without a doubt, their father Ray Thompson. A 40-year veteran of various types of karate and kickboxing, the patriarch holds multiple black belts in more than half a dozen disciplines. One would think he was building a small army of fighters, judging by the accomplishments of his offspring. And this only begins with Evan and Stephen.
A few more fighters comprise the roster of Ray's children, including sister Lindsay, who is an accomplished martial artist in her own right. Lindsay started out in kickboxing even before Stephen, and their younger brother, Tony, is beginning to dabble in an MMA career as well.
In a union that seems straight out of medieval times, two powerful kingdoms came together when Lindsay married Carlos Machado of the world famous Machado Jiu-Jitsu clan. Imagine the fighter DNA in that bloodline!
Ray continues to train "Wonderboy" for his UFC bouts, and Evan frequently joins them in his own fight preparation. The family's commitment to training and discipline is almost certainly the key to their success.
The Thompson standard is to start training kids at around age three, which develops an incredible skill set of technique, instinct, and muscle memory that most fighters will never have. These years of training have helped to immeasurably hone the Thompson's mental calm.
"Fighting is in our blood, it's who we are." –Stephen Thompson
"If you think about it, the nerves are going to be there. You don't want to think; You want to react. But you have to train yourself to do that," Stephen said.
That familiarity under-fire almost always translates to victory in the octagon for Thompson, but their father continues to hold his boys to the highest standards in order to keep their skills sharper than a samurai sword.
"One of the first things you learn in karate is a jab. I can't tell you how many times my dad still makes me do a jab. Just thousands and thousands of jabs," said Stephen.
That commitment to discipline and perfection is a true testament of the Thompson caliber.
One last interesting fact that every UFC fan should know is that while GSP calls "Wonderboy" the world's greatest striker, he was also known as GSP's secret weapon, until a head-kick victory in Stephen's UFC debut revealed him to the world.
Now that St. Pierre is on hiatus, another champion has enlisted Stephen as a secret weapon: UFC middleweight champ Chris Weidman. What many people don't know is that "Wonderboy" was actually brought in by Longo MMA to help prepare Weidman for Anderson Silva's elusive striking in their first bout. He also helped Weidman train for his UFC 168 rematch with "The Spider."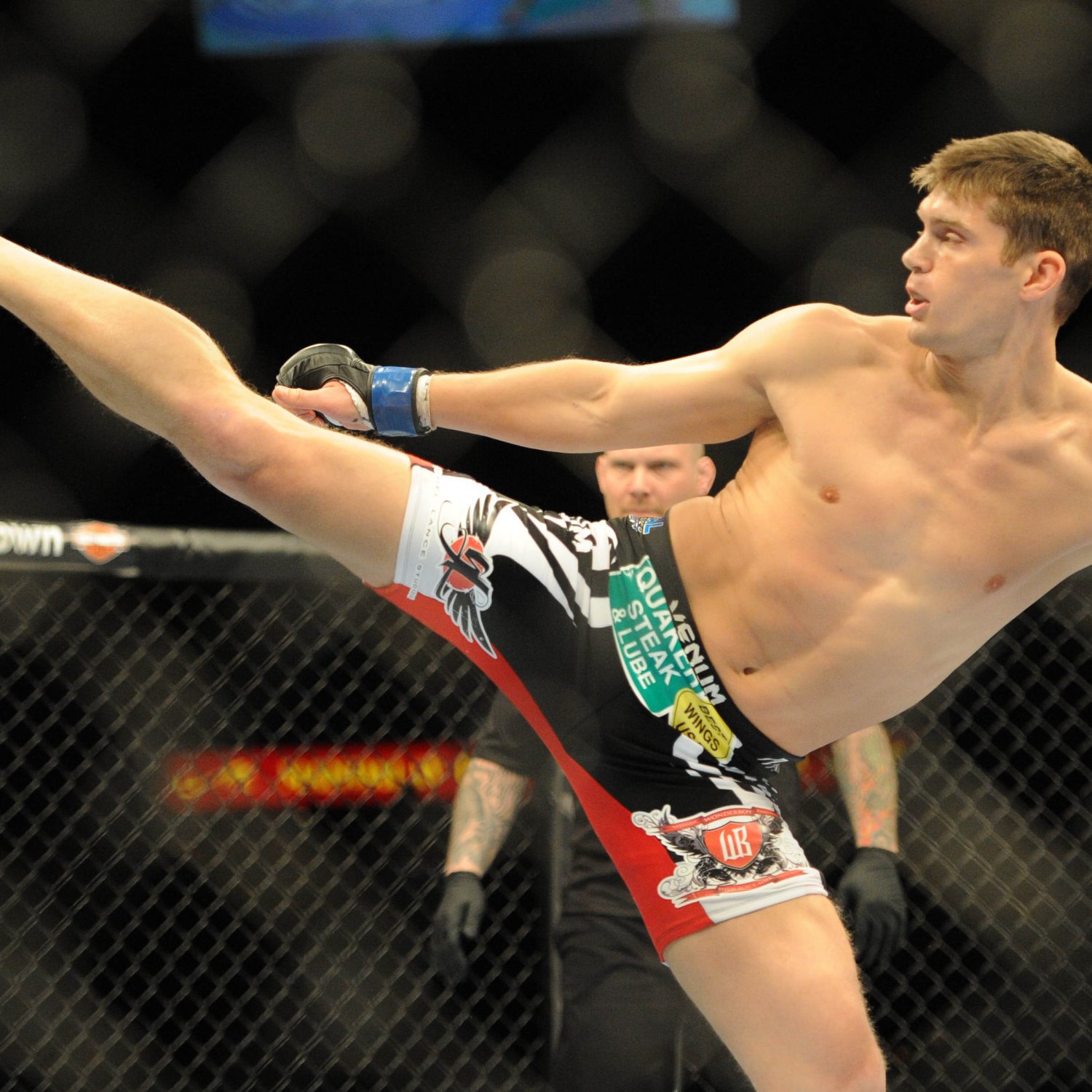 "He called my dad for his first fight with Anderson, because I can simulate people very well," Thompson said. "He asked me to come out for the second fight as well."
Clearly the formula has been a success for Weidman, and training with the middleweight champion can only improve "Wonderboy" as a fighter. So it is truly a win-win situation for all involved.
Thompson does not have a current fight assignment and may have suffered a hand injury in his last fight, but he'll stay plenty busy helping Weidman get ready for Lyoto Machida in the meantime.
"I just saw Chris at the Arnold classic," Thompson recalls. "He said 'I need you back for this training camp, I want you to stay a little longer this time.' So, I think it's great for the world's best at 185 asking me to come help."
There it is. Anyone who thinks that Machida's elusive striking is impossible to train for is sadly mistaken. Not to mention, the riddle of Machida's style has been solved before.
Speaking of solving riddles, everyone knows Weidman was the man to stop Anderson Silva's dominant reign, and he has this so-called secret weapon to thank for that. None of this recent history would have been made without the help of Stephen "Wonderboy" Thompson.