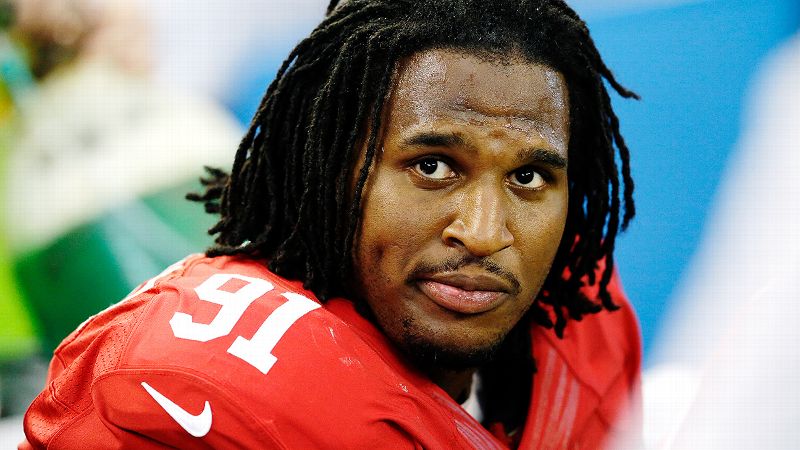 We have said this before and we'll say it again: you pay hundreds, sometimes thousands of dollars for tickets to NFL games to see guys play who have been accused of domestic abuse.
But you get frisked and searched at the gate.
Who's the freakin' criminal here? The NFL doesn't need its own security personnel; it needs parole officers.
And in case you're wondering how future teammates feel about these guys being signed as free agents by their new teams, well, it seems they're getting warm welcomes. Maybe too warm.
Bears head coach John Fox called Ray McDonald a "great teammate," which is code for, "we sucked so bad on defense last year we'll take anything, anyone, who can even remotely rush the passer, make a tackle for loss or otherwise provide a semblance of defense."
At OTAs, and again in training camp, Bears players will rally around McDonald, calling him a terrific teammate who brings a fabulous work ethic and great talent to the team at a position where they could really use it and for a function they really needed to improve.
Cowboys players will say the same about Greg Hardy.
Fans will vote with their dollars but not their sense. They will continue to tune in to games and purchase tickets for games in which these guys play. They will continue to endorse the National Football League as the halfway house it has become for alleged domestic abusers.
And unless you want to join them, don't carry in anything illicit, you know, like merchandise that doesn't have an official sponsor's logo (they don't like that getting on TV).
As to the game announcers, they are already restricted from saying anything beyond that these players had "off-the-field issues that have been pretty well documented," but aren't necessarily over. For the Cowboys and Bears, any pretense at dignity and ethics is, however.
Ring My Belichick
The warm, cuddly, irrepressible, and likable Bill Belichick of all people went off on the NFL last week about changes he'd like to see, particularly more cameras to refer to in replay challenges.
The owners said it would be too costly.
Belichick told them to fold that five ways and sideways and then stick it someplace on their bodies where the sun doesn't shine.
The owners said it would not be cost-effective.
Belichick reminded them they underwrite games in London and that they're considering the Pro Bowl in Brazil.
Don't worry Bill, they'll have extra cameras in Brazil—trained on Gisele Bundchen and her model friends on the beaches.