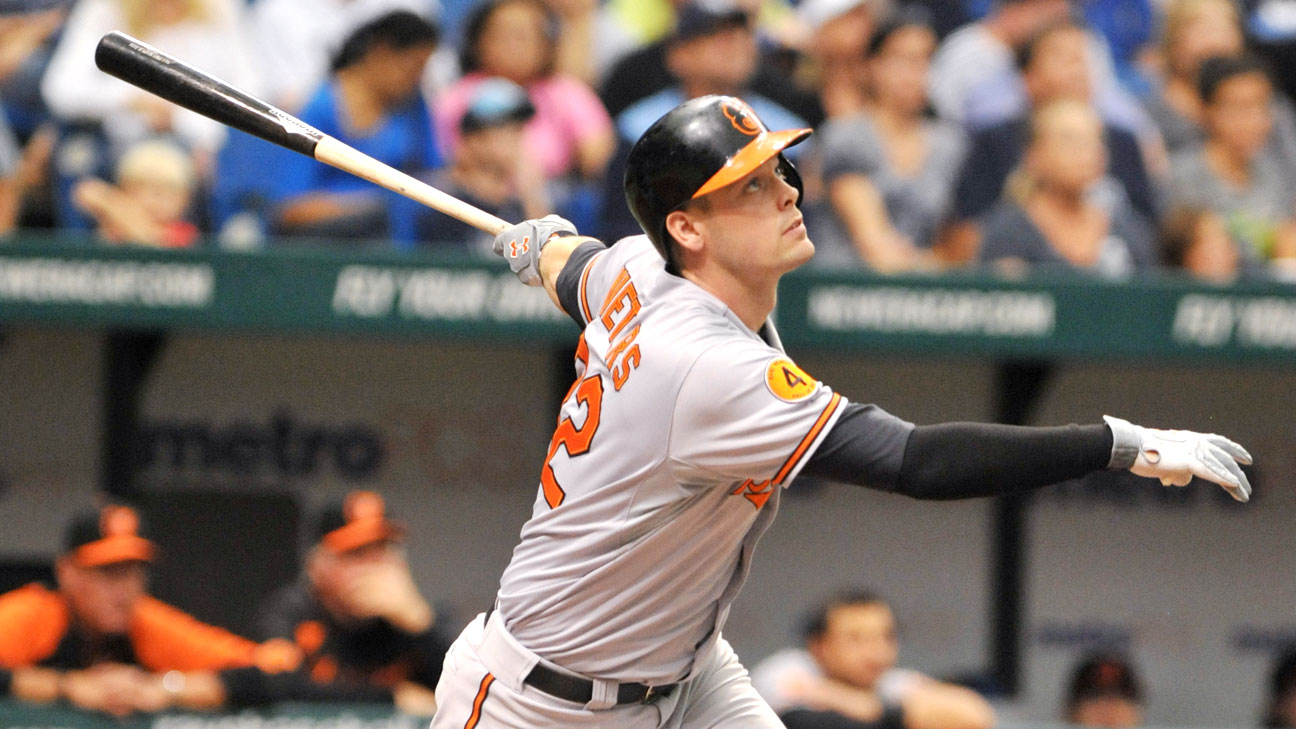 Before Mike Trout put up two MVP-caliber seasons to begin his career and Bryce Harper and Stephen Strasburg made debuts worthy of their number one-pick status, there was Matt Wieters. More to the point, there was MattWietersFacts.com. 
Wieters was a living legend before he arrived in Baltimore. Like Chuck Norris, Wieters spawned a following based on his promise to take on pitchers with the punch of a roundhouse kick:
"Matt Wieters Catches The Early Bird Before He Gets The Worm."
"Once, Matt Wieters Hit A Home Run That Only Measured 400 Feet, But It Landed In The Year 2078."
"Matt Wieters Is The Reason I Comes Before E, Except After C."
Baseball Prospectus 2009, and BP's PECOTA projection system, were as high on Wieters as possible: "No matter what happens in Wieters' major league career… he can bask in the glory of what was arguably the best minor league performance of the last 40 years …Take anything we've said about any player in any year of the Baseball Prospectus, and Wieters had a better year than that guy."
High praise indeed.
For 2009, the year Wieters made his major league debut, PECOTA projected a triple-slash line of .311/.395/.544 with 31 home runs. His top comparables were Mark Teixeira and J.D. Drew – very good major leaguers in their own right possessing offensive prowess rarely found behind the plate, where Wieters would be spending his time.
Entering the 2014 season, one would expect, perhaps, MVP consideration, multiple All-Star Game honors, and maybe even some postseason heroics. Instead, the second-to-last winter before Wieters' free agency included trade rumors and the thought that moving Wieters could be the first move towards building the next great Orioles team. Orioles fans may feel like Obi-Wan Kenobi at the end of Revenge of the Sith: Wieters was supposed to bring balance to the AL East, not be a blip during the rebuilding process.
Aside from his 96-game debut in 2009, Wieters has not hit for a high batting average, but the rest of his skill set has been reasonably consistent over the first five years of his career.
The problem is that Matt Wieters hasn't lived up to the expectations his minor league track record (.343/.438/.576 across three levels over two seasons) set for himself.
In terms of bWAR, 2013 was his worst season (0.4 bWAR), actually worth less than his short debut in 2009. In his other full seasons, Wieters was worth 2.5 (2010), 5.1 (2011), and 3.6 (2012) bWAR making the drop off, during the year he turned 27, something of an unexpected surprise.
Which isn't to say 2013 was a complete loss: Wieters led all catchers in home runs, was seventh in doubles (between Buster Posey and Jonathan Lucroy), and by playing 148 games (140 starts at catcher) was fourth among catchers with 579 plate appearances. His durability counts for something too. This is an above-average bat, and at catcher, well worth trading or signing long term. Speaking of extensions, Wieters' price at free agency is likely to be high: Joe Mauer dollar figure high.
While Wieters has been as advertised defensively, although strangely not in terms of pitch framing, it was his pitcher-crushing bat that made his name in the minors. One place he might be able to make up some ground: more efficient switch-hitting. Although the catcher has a career .831 OPS against lefties and .702 mark against righties, Wieters OPS against righties in 2013 was just .648, down from .715 in 2012 and in line with a .662 mark in 2011. With right-handed pitchers making up the bulk of rotations across the league, it might be time to experiment with hitting only from the right side, trying to improve from his area of strength.
Wieters has not become a catcher with the bat of Mark Teixeira, who hit .286/.371/.539 through his first five years in the majors, but still just 27, Wieters might break through a little more with the bat, has very good doubles and home run power for a catcher, and excellent defense. 
This might be his ceiling, and if so, he's still a tremendous baseball player, just not the stuff of legend.