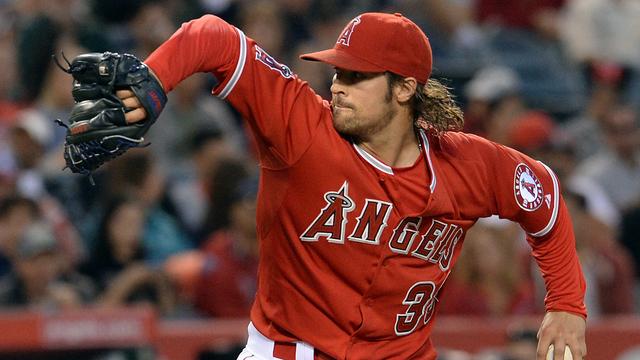 For the second night in a row, you'll have to wait until late to see the best pitching matchup of the day. It's a pretty lean slate, but there are a few individuals in action that are worth watching as well. Check 'em out:
Chris Archer (TBR) vs. C.J. Wilson (LAA)
10:05 p.m. ET
Archer threw down his best pitching performance of the season last time out, and still managed to take a no-decision as King Felix stymied his team's offense. Archer threw eight solid innings, fanning 12 and walking none while allowing just two hits over 95 pitches. But it's games like that which have kept Archer's record to just 5–4 despite a sterling 2.12 ERA; over his last four games in which the Rays lost, the offense has mustered a combined four runs—all four coming in a 5–4 loss to Texas on May 7. So yeah, there's not a ton Archer can do about three shutouts being pitched against him, as he too allowed just four earned runs in those losses—all in the Baltimore start that preceded the aforementioned Rangers tilt. Archer checks in at 10.9 K/9, ranking him sixth behind a veritable who's who among strikeout pitchers: Danny Salazar (11.7), James Shields (11.6), Francisco Liriano (11.3), Corey Kluber (11.3), and Clayton Kershaw (11.2). Among those pitchers, Archer has the lowest home run rate (0.5 per nine innings) and is inducing the most grounders (52.5 percent), so there's little doubt that Archer should be able to sustain his early-season success. This could be a Cy Young dark horse.
Wilson isn't someone we've given a ton of love so far this season, but he's quietly putting together a solid season for the Halos. No peripheral statistic bounces off the page more than his 3.18 ERA does, as he's right around league averages in a lot of respects. He's fanning 6.8 batters per nine innings, walking 2.9, and inducing grounders 44 percent of the time. The AL averages on those marks are 7.5, 3.0, and 44.5 percent. Wilson has had a couple unsightly starts, including walking seven batters in a win last time out and allowing six earned runs in a mid-April start, but otherwise he's just been steady. Eight strikeouts here, eight shutout innings there, but never terribly flashy and definitely not bad either. And for today, that's enough to get into the premier matchup.
Warm-Up Tosses
Here's a look at today's "aces in isolation:" Jordan Zimmermann (opposed by Toronto's R.A. Dickey), Johnny Cueto (Philadelphia's Sean O'Sullivan), Max Scherzer (Toronto's Marco Estrada), Carlos Carrasco (Kansas City's Jeremy Guthrie), Lance Lynn (Milwaukee's Tyler Cravy), Zack Greinke (Colorado's David Hale), Shelby Miller (Arizona's Josh Collmenter), and Noah Syndergaard (San Diego's Ian Kennedy). We broke down Zimmermann in depth yesterday, but the gist of it was that he's been very good since a seven-run outing eight starts ago.
Cueto's coming off an elbow issue, and hasn't pitched since May 19. He's looked a bit more human in his last four starts (4.45 ERA).
Save for a five-run blip on the radar in early May, Scherzer has allowed two or fewer earned runs in all 10 starts this year (1.51 ERA). His highest ERA at the end of any start has been 2.11. Carrasco merits inclusion in this list chiefly due to his control (66 strikeouts against 13 walks). He's gotten six or more strikeouts in six straight starts.
Lynn has been a bit shaky over his past two starts (seven earned runs, three home runs allowed, 9-to-5 K/BB ratio in 12 innings), but he does have the luxury of facing a pitcher making his first big league start. Cravy is the second Brewers starter in the last three games to make his debut (Tyler Wagner).
Greinke has allowed exactly one earned run in each of his last four starts. His ERA remains unchanged from a start ago (1.48), and his ERA hasn't been above 2.00 after any start this season.
Nearly the same can be said for Miller, who also sports a 1.48 ERA but did have the audacity to allow his ERA to balloon to 2.17 in late April. He's been a groundball wizard, inducing 41 over the past four games, and a career-high 49.2 percent for the season. With Andrelton Simmons on your side, that's a good way to go about your business.
Rounding out today's action is Thor, who allowed three earned runs in his first big league start, and has allowed just two since (19.1 innings, 0.93 ERA, 16-to-1 K/BB ratio). That would seem to qualify for "as advertised" status.
Statistics courtesy of Baseball Reference, Brooks Baseball, and Fangraphs.