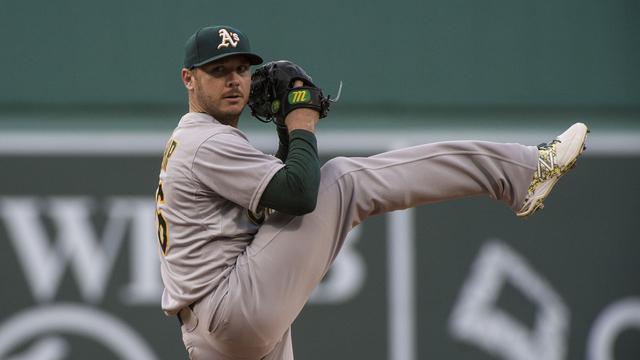 ​
Today is a bit thinner across the MLB landscape as far as pitching matchups are concerned, but there are a few intriguing arms going. Check 'em out:
Scott Kazmir (OAK) vs. Andrew Cashner (SDP)
3:40 p.m. ET
Pitching for a team that woke up today 10.5 games out of first and 12 games under .500, Kazmir will likely be one of the names most heavily shopped as the baseball season moves into July. For his part, he's absolutely done his job to maintain value while his team has struggled. Those struggles are evident even in Kazmir's numbers, as he's just 3–4 despite sporting a 2.79 ERA and allowing more than three earned runs just once in 12 starts. The Astros seem to be the most common expected destination, but it's clear the 31-year-old left-hander could help pretty much any team down the stretch as he heads into another free agency foray. The most important thing for Kazmir right now is that he bounced back with eight strong innings—no runs, one hit—against the Rangers last time out after being forced from his previous start against the Red Sox with shoulder issues. As long as he's healthy, he'll be on the move. That is, unless the A's have a little second-half magic in them. Don't rule it out.
If Kazmir has been snake-bitten, you'll have to create an entirely different malady for Cashner, whose Padres are just 4–9 in his starts despite him putting together a pretty good first two months. June has been a bit bumpier, as Cashner has an 8.47 ERA through three starts (16 earned in 17 innings). Incidentally, the Padres are 2–1 in those starts, so go figure. When Cashner is at his best, he'll effectively mix grounders and strikeouts while minimizing the free pass, which is pretty much the ideal way to execute success in today's game. And while his numbers on the whole—8.4 K/9, 2.7 BB/9, 47.3 percent grounder rate—reflect that, it rarely happens all at once. Cashner induced a season-high 15 grounders last time out, but fanned just one hitter. Cashner struck out 12 (and walked none!) but induced a season-low five grounders in his first start of June. Now there's something to be said about there being a limited number of ways to skin a cat, metaphorically of course, but right now Cashner looks like a guy who has his cake, but takes a few bites at different times of the day. Once he puts it all together, he's going to be a fantastic complimentary piece to James Shields atop that rotation. For now, he's just a beautiful enigma.
Warm-Up Tosses
Here's a peek at today's "aces in isolation:" Michael Wacha (opposed by Minnesota's Kyle Gibson) and Garrett Richards (Arizona's Jeremy Hellickson). Wacha and Richards actually bookend today's action, as the former's game starts at 1:45 p.m. ET and the latter at 10:05 p.m. ET. Wacha finally found his strikeout stuff last time out, fanning 10 Rockies batters in an eventual loss. He allowed four earned runs in 6.2 innings, which was just the second time in the last eight starts he'd allowed more than two earned runs. Incidentally, as Wacha has regained his mojo strikeout-wise over the last few starts, the groundball numbers have taken a tumble, as he hasn't induced double-digit worm burners for six starts straight. He's allowed five of his six home runs this season in that stretch, which hardly seems coincidental.
As for Richards, the righty got back on track with seven strong innings—two earned on four hits—against the Rays after the Yankees bounced him in his penultimate start. Against the Bombers, Richards didn't even make it out of the first inning, allowing six earned runs in an effort that bumped his ERA nearly a full run. Richards fanned seven and walked just one in a decidedly more Richards-like performance last time out, and while the strikeouts have slumped a bit (7.5 K/9), the grounders have seen a nice little bump (54.2 percent) to help make up some of the difference.
Trevor Bauer versus Jake Arrieta pits a couple of righties who are having really nice seasons against one another. Bauer blew up last time out, giving up six earned while failing to finish four innings against the Mariners, pushing his ERA up from 2.94 to 3.53 when all was finished. That broke a string of five straight starts for Bauer where he'd allowed either one or two earned runs after a rough two-start stretch immediately beforehand. Like any of his non-Corey Kluber rotation mates, Bauer is still coming into his own as a starter. But if that means there's more room for overall improvement—there likely is—then that is kind of scary. Arrieta has just sort of been steady all season, with every start going at least five innings and none resulting in more than four earned runs. He's also been very stingy on walks of late, issuing just one in his last three starts against 21 strikeouts. Another testament to how solid he's been this season is that his ERA has been no higher than 3.41 at the end of any start so far.
Statistics courtesy of Baseball Reference, Brooks Baseball, and Fangraphs.