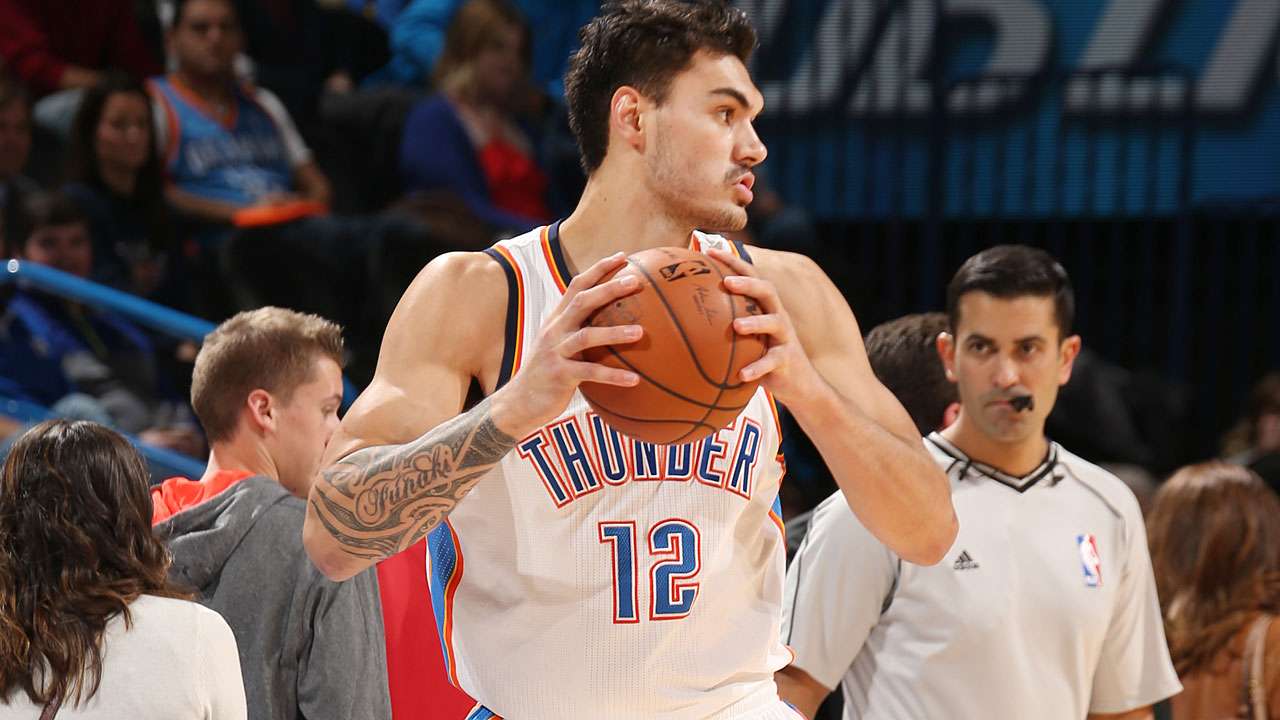 ​
The Oklahoma City Thunder have been a playoff institution for so many years that their slow 3–9 start just might feel like the sky is falling for all of their fans. While medium-term injuries for both Kevin Durant and Russell Westbrook are a surefire way for any team to take a little tumble down the standings, I think the Thunder are so far below .500 because of the massive quantity of injuries sustained up and down the entire roster. Important players like Reggie Jackson (three games missed), new free agent Anthony Morrow (seven games missed), and 2014 draft pick Mitch McGary (yet to play) have forced the Thunder to go with not just their second-string options, but their third-string backup plans.
What's interesting about the Thunder is, even though they've been playoff contenders for so long, they have a growing battalion of young players that even some rebuilding teams can't compete with. General manager Sam Presti is wise to never trade his draft picks, especially because he is capable of finding eventual stars like Jackson or Serge Ibaka at the end of the first round. Provided that Durant and Westbrook make full recoveries, I actually believe that their injuries can be a long-term positive for the organization, as it provides ample playing opportunities for some of Presti's latest first-round picks.
These four players haven't been essential pieces in OKC's rotations—yet. This is their time to prove that they are too good to be benched, even when the team returns to full health. Perhaps the most brutal part of Oklahoma City's season is that these players have also gone down with injuries at just the moment when they would be able to shine brightest. Even worse: these four players have yet to all play in a single game together this season. The difference between these players blossoming and flopping could very well be the difference between whether Oklahoma City will ever be NBA champions:
Perry Jones III
How he was acquired: Drafted by Thunder with No. 28 overall pick in 2012 draft.
When he's on: A 32-point game against the Los Angeles Clippers this October was another tease that Jones has a superstar's ceiling who just might be a viable main option in an NBA offense. Across the whole league, there may be only one 6'11" player who can handle the ball better than Jones—Kevin Durant.
When he's off: Despite his considerable height, Jones provides no type of matchup nightmare on the defensive end, where he plays a reactive style that doesn't do much to help his team. Jones went down with a knee injury in the middle of Oklahoma City's fifth game, and has been forced to watch more than half of the Thunder's game from the sidelines. His ostensible replacement, Lance Thomas, who was a free agent all the way until mid-August, is third on the team in total minutes.
Jeremy Lamb
How he was acquired: Drafted by Houston Rockets with No. 12 overall pick in 2012 draft; part of package traded to Oklahoma City for James Harden.
When he's on: One of the league's smoothest jump shooters already, Lamb creates his own shots on the offensive end methodically but effectively. Lamb missed the first five games of the season, but has followed that up with a robust 33.3 minutes per game in the last seven.
When he's off: Much like Jones, a lack of aggressiveness on the defensive end makes Lamb something of a liability on the other end of the floor.
Steven Adams
How he was acquired: Drafted by Thunder with No. 12 overall pick in 2013 draft. (via Houston in the Harden trade.)
When he's on: The aggressive New Zealander provides all of the bothersome physicality that Kendrick Perkins has long been famous for—just, Adams isn't constantly creating offensive fouls and turnovers, as Perkins has become increasingly prone to do. Also unlike Perkins, Adams is actually comfortable moving in space:
As an every-game player during last year's playoffs, Adams is the furthest developed of these four players, and his spot in the starting lineup—alongside Ibaka, with Perkins coming off the bench—should be a permanent thing. After playing 81 games last year, Adams is one of only six Thunder players to appear in all of the team's games this year.
When he's off: His career shooting percentage of 49.6 percent is pretty low for a center, meaning he can't be trusted for much more than put-backs and dunks on the offensive end.
Andre Roberson
How he was acquired: Drafted by Thunder with No. 26 overall pick in 2013 draft.
When he's on: Even though he's received by far the fewest minutes of these four players, Roberson just might excite me the most, because of his natural fit with a Durant/Westbrook lineup. At 6'7", Roberson has more rebounds than points in both college and the NBA. He does not need to receive the ball on the offensive end, and is more concerned with making the right pass instead of hoisting off a shot—an approach to the game that reminds me of Andrei Kirilenko. Roberson thrives on the defensive end, equipped with the size/quickness combo to guard multiple positions, and the awareness to always provide help for teammates. In this way, Roberson could fill the hole that star defender Thabo Sefolosha left in the starting lineup. Here's Roberson blocking a jump shot and making it look easy:
When he's off: A limited shooting range (12.5 percent on three-pointers so far in the NBA) makes his role within a Durant/Westbrook offense hard to picture. Roberson went down with a sprained foot in the middle of the Thunder's fourth game and has yet to return.