Sam Quinn: We've been arguing about this for years. It's time we finally get some closure. Right here, right now, Magic vs. Bird. Let's do it. 
Before we get into stats, accolades, anecdotes and name calling, I'm going to start this off with a fairly simple concept. Magic Johnson is the greatest passer of all time. That's his gift, that's why he's a top-five all time player. But Larry Bird is probably in the top-10, too. As good as Magic is, Bird is pretty darn close.
Meanwhile, Bird is the greatest shooter of all time. Calling Magic a mediocre shooter is pretty generous. If Bird can give you 95% of what Magic does in his best attribute, but Magic doesn't come close to Bird in his, doesn't that really start to tip the scales in Bird's favor? 
Macklin Stern: Simplicity is a great place to start with Magic and Bird, because although the two go together like PB&J, Troy and Abed (if you get that reference, bless your heart), or me vomiting after a Heat championship, determining who was better is nearly an impossible task.
They were at the center of the biggest rivalry in sports, and at the same time, had the utmost respect for one another. Even amongst themselves, they could not firmly pronounce who had the advantage.
But that's why we're here. To help shed some light on a question whose answer has been as unsatisfying as the new Superman movie (okay, maybe not as unsatisfying). We will dig into the depths of our basketball knowledge, we will provide stats and metrics, as well as relay our takeaways from intense game tape sessions (I'm talking Peyton Manning intense) and hearsay stories to come up with some kind of conclusion. 
Let me begin by saying Sam, you're right. You're absolutely right. And that feels a bit odd to say so confidently, but it's true. Magic was the greatest passer of all time. And although there is room for debate that Ray Allen (who just recently hit one of the biggest shots of all time), Reggie Miller, Rick Barry, or Pete Maravich was the greatest shooter of all time, I'll give you Bird.
He was truly phenomenal, lights out. And I understand your argument about Larry being a better passer than Magic was a shooter. That is fair, but I have a few things to say in response to that. 
Let's take a look at career field goal percentages. I have to make it clear that field goal percentage can be correlated with, but is not always related to, how good of a shooter someone is. Take a gander at the NBA's all time leaders in field goal percentage. Tyson Chandler is first at 58.4%, Shaquille O'Neal is second at 58.2%, Dwight Howard is fifth at 57.7%, and Eddy Curry (yes, the one and only Eddy Curry) rounds out the top-20 at 54.4% (beating out the likes of Wilt Chamberlain and Bill Walton).
This is not surprising, though. These big men take the highest percentage shots of anyone — mostly dunks and lay-ups. They're not good shooters, they just took and made a majority of their shots within five feet of the basket.
Back to Magic. Sam, you said that Magic was a less than mediocre shooter. His shooting percentage was 52%. Bird's was 49.5%. In no way, shape, or form am I saying that Magic was a better shooter. Although Bird took many more shots, including hundreds more threes, the 52% statistic demonstrates Magic's undoubted efficiency from the field.
Magic was an above-average shooter, hardly mediocre. He wasn't Jared Jeffries. You couldn't just not guard him (Sorry to every English teacher I've had for that last sentence. And an even more sarcastic apology to any lurking grammar police in our audience). He absolutely hit the shot if he were open. In addition, part of what made him so great was if a coach put a smaller defender on him, he would nail the shot right over him.
Shooting ability aside, Magic was a point guard. The best point guard of all time. It was not his job to be a great shooter, though I argue that he could have been if he focused his attention on that aspect of the game. And I'd like to go further than calling Magic the best passer and Bird the best shooter. Jason Williams was a great passer. Kyle Korver is an unbelievable shooter. However, those two stats make up a very singular and rigid dimension.
Magic was more than the best passer. He was the greatest ball-handler of all time. That category includes: passing, dribbling, protecting the ball, getting the ball to the right people, shooting, and scoring when the time is right. He did all of these things incredibly well, better than anyone.
Magic was a distributor, a playmaker, and most importantly, a floor general. He was the engine that revved up the "Showtime Lakers," and jumpstarted them from "that team with Kareem" to the greatest team of the decade.
SQ: I hardly find field goal stats relevant. Most of Magic's shots came off of the break or by posting up smaller point guards. In other words, close to the basket. Larry Bird played the perimeter because of McHale, Parish and for one year, Walton. His shots came largely on the perimeter and, as a result, he hit a lower percentage than Magic.
To put this in perspective, Ray Allen's career field goal percentage is 45.2%, Rick Barry's was 45.6% and Reggie Miller's was 47.1%. For Bird to be so far ahead of them is a testament to what an amazing shooter he was. Now he obviously went to the basket, I'm just saying perimeter shooting was a huge part of his game, much bigger than it was for Magic's game.
I'm not quite sure Magic could've ever developed into a dead-eye shooter because of his form. Look at it. It's hideous. I'm not saying he couldn't have become an elite scorer.
He could have by developing a sick low-post game to abuse smaller defenders and becoming a better finisher at the rim, but saying he could have become an elite shooter is akin to saying Shawn Marion could have done the same thing. I just don't think anyone whose shot is that ugly ever hits the upper echelon.
I'll grant you that Magic is the best ball-handler of all time in terms of decision making and running an offense, but Bird isn't far behind in that regard. Bird was kind of LeBron-esque in that he was a small forward who could also play the 4 or point guard. Again, not a big gap there.
Two areas where there were pretty significant gaps? Rebounding and defense. Bird averaged 10 boards per game despite playing with two other All-Star big men. Magic clocks in at 7.2, impressive for a point guard, but when you remember that he's 6'9'' that almost mitigates the positional advantage because teams expect it.
On defense, Bird was at least above average; Magic was, at least later in his career, a liability. Both played the passing lanes and gambled over playing straight up man defense, but Bird struck a far better balance and wasn't burned as often.
This may have given Magic the edge in steals (1.9 to 1.7, but it really should've been bigger if you include that ridiculous '95-'96 season for Magic), but Bird destroys him in defensive rating (101 to 104) and defensive win shares (59 to 45.2).
MS: I think it's safe to say that Magic would have never become an elite shooter. No one's saying that. I was conveying that if his team were desperate for shooting, and Pat Riley expressed this to Magic, he could have worked over his career to become that type of threat. However, Magic's role, like I said, was facilitator, distributor, and floor general. It was not his place to be shooting jumpers.
Bird was a great ball handler, but that was not his position. Instead, the Celtics had Dennis Johnson, a Hall of Famer who played point guard. I wouldn't say that Bird was as close behind Magic as you seemed to have asserted in this regard.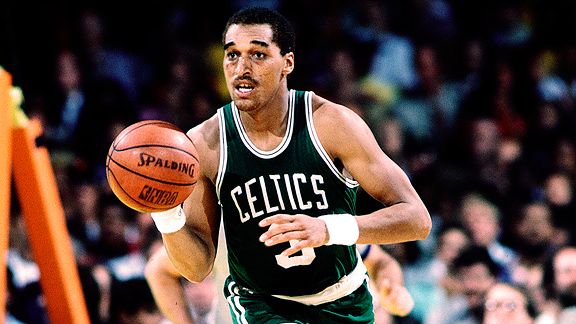 Magic was so good with the ball that he was dubbed Magic (and I think it's fair to say that it beats the Hick from French Lick, which is a bit too much of a mouthful for my taste). Nicknames, which you and I have both agreed with in the past, are not as good or prominent as they used to be. I'm not making the argument that quality of nicknames makes one player better than the other, but the fact that he was labeled a supernatural and inhuman phenomenon speaks volumes to his ability on the court.
And even more impressive, he backed it up. It felt magical when Magic had the ball. He was Houdini on the fastbreak, throwing no look passes left and right that seemed impossible to make, always finding the open man, never ceasing to amaze the crowd. It was truly indescribable to watch a 6'9'' guy galloping down the court and dishing the ball in ways that were unimaginable. Not to mention his intelligence and leadership were Dumbledore-esque (to keep with the magic theme). His ridiculous passing ability and overall ball handling were superior to Bird's.
Magic was not a defensive liability. Sure he wasn't known for his defense, but neither was Bird. They were both slow, and not very athletic. However, they were extremely intelligent on the defensive end. As you mentioned, Magic averaged nearly two steals per game over his entire career, and that includes 1982, when he stole the ball 208 times (almost three steals per game). That figure is in Scottie Pippen territory, a man who is widely known as the best perimeter defender of all time.
Bird averaged 1.7 steals per game over his career. The key defensive difference is based on what type of player each of them had to guard. Magic typically guarded the opposing point or shooting guard, while Bird took on guys that were more his size. Guards were speedier than Magic, but his quick hands and IQ made up for it. Bird mostly defended slower, less athletic big men, which significantly helped him on that end of the floor.
This also leads in to my argument about rebounding. Magic and Bird played two different positions on the floor, so how can you say that Bird was better at it? Bird defended big guys and was thus physically closer to the rim. He had more rebounding opportunities than Magic. Forget about size here. That doesn't matter. Bird averaged more rebounds than Magic because his forward position allowed him to do so.
Name another guard in the modern era who averaged 7.2 rebounds over his career like Magic did. There's LeBron, but he's more of a forward. Magic guarded guards, and that made it much harder for him to rebound.
SQ: I'll give you a few guards who were close to Magic without his 6'9'' height. First of all, remember that Magic's rebounding stats are skewed because of the pace the Lakers played at (absolutely frantic). Using his pure rebounding numbers makes no sense because he had more opportunities than other guys. Look at rebound rate instead, because that only accounts for the percentage of available rebounds the player got.
Magic's rebound rate was 11.1%. Oscar Robertson is the obvious answer, but we don't have stats to back that up because he played in the dark ages. Fat Lever (10.1%), Jason Kidd (10%), Clyde Drexler (9.9%) and Michael Jordan (9.4%) are all in the stratosphere, but remember most of those guys were battling others their own size.
Magic had such an advantage on the boards because his own defender generally couldn't box him out, giving him free reign towards the basket or forcing another defender to take him giving more room to someone else. He grabbed a ton of free rebounds for this exact reason. Bird banged in the post a lot more than Magic, and had to earn his extra rebounds. His rate (14.5%) dwarfs Magic's even with all of the easy ones Magic got.
With defense, yes, Magic was a liability. If you take out those first few years where he was playing shooting guard next to Norm Nixon (a much easier position to defend back then. Remember, Jordan, Drexler and most of those guys didn't come in until the later 80's while the Gervin-Thompson group was aging), his defensive rating rounds out to a little over 106. That means as a point guard (his primary position) he was giving up 106 points per 100 possessions. Amar'e Stoudemire's career defensive rating is 105, David Lee's is 108, and if you're looking for a guard to throw into this discussion, Allen Iverson's is 106 (just like Magic!).
Those aren't exactly great names to be lumped in with. Defensive win shares tell a similar tale: Magic averaged around 3.7 per year, Iverson comes in at around 3. You could talk me into Magic maybe, possibly, being only below average, but nothing more. Bird's defensive rating? 101, and he averaged 4.9 defensive win shares per year. He also made three All-Defensive teams, Magic made none. There's a sizable difference there. 
Rather than getting into the minutia of the ball-handling/passing argument (we'll just never agree there), there's another point I want to bring up. Bird won three straight MVPs from 1984-86. At that point, this wasn't a question. Bird owned the league. Magic won three MVPs too, but I'd argue two of them were given incorrectly.
1987 was rightfully his, but '89 was given to him because of voter fatigue: nobody wanted to give Michael Jordan the award twice in a row because he was an ass and he hadn't won a ring yet. Statistically he was better and it wasn't even close. He averaged a freaking 32.5-8-8 with Defensive Player of the Year (he was the reigning winner) caliber defense for God's sake!
Then, in 1990, Magic won MVP despite having FEWER first place votes than Charles Barkley. In fact, Barkley beat him by double digits (38 to 27).
Magic never owned the league like Bird did in the mid '80s, Jordan did in the '90s or LeBron does now. Each of the last three guys had multiple MVP/title overlaps; Magic only has one, and to be fair, it came in the year when Boston's No. 2 overall pick (Len Bias) died of a cocaine overdose and their second-best player (Kevin McHale) broke his foot and kept playing. The '86 Celtics are arguably the greatest team ever. I think it's fair to assume they would have at least had a better shot at defending their title if McHale were healthy.
MS: If Bird "owned the league" from 1984-1986, then you could argue that Magic did the same from 1987-1990. Magic won the regular season MVP three times during that span ('87, '89, and '90), just as Bird did it earlier in the decade; he played his four best individual years statistically, averaging 22.1 points, 12.1 assists, and 7 rebounds per game over that span, and Magic won the NBA championship in 1987 and 1988, earning Finals MVP in the '87 series against Bird's Celtics.
I should also say that Magic defeated Bird in 1985, when Bird "owned the league." Bird cannot make a similar claim about beating Magic when he "owned the league."
I'll address the MVP awards. I believe that in '87 and '89, Magic definitely should have won them. In '89, MJ did have a great year, but his team finished with a 45-37 record. Meanwhile, the Lakers, who lost nearly all production from Kareem, were totally reliant on Magic to pull them through the season.
Magic did just that. He averaged an incredible 23 points (his highest scoring average in his career), 13 assists, 8 rebounds, and 2 steals on 51% shooting. Like Jordan, he averaged 8 rebounds, but five more assists. Jordan shot the ball way more than any other teammate (more than twice as many as the next guy), so it's only logical he averaged more points than Magic. Magic led the Lakers to a 57-25 record, finishing much better than Jordan's Bulls.
In '90, Sir Charles averaged 25 points, 12 rebounds and 7 assists. Magic averaged 22 points, 12 assists, 7 rebounds. The numbers aren't all that different here. At this stage, they were both mediocre defenders. So what gave Magic the edge? Record and team performance. Magic led the now ancient (and without Kareem for the first time) Lakers to a stellar 63-19 record, while Barkley and the Sixers finished 53-29. Thus, I'll say Magic's awarding of the MVP that year was fair.
Sam, you bring up the argument that if the Celtics had a healthy McHale in the '87, they would have had a better chance to win. Perhaps, but he still played. And was still extremely effective. In fact, he averaged 22 points and 9.2 rebounds. Statistically, that was his best NBA playoff rebounding average ever! So, I think it is fair to say, that in this circumstance, whether McHale were healthy or not, it wouldn't have made a huge difference since he was still so effective.
Recall the 1980 NBA Finals. Kareem Abdul Jabbar and the Lakers made their first NBA Finals appearance since he joined the team. After playing a great series, Kareem got hurt, and was forced to miss Game 6. Let me make it clear: Kareem was not able to play at all with his injury (unlike McHale in '87, who was could still provide plenty of scoring, rebounding, and defense for Bird and the Celts).
People in Laker-land were devastated and did not give their beloved team much of a chance to defeat Dr. J and the powerhouse Sixers. However, a 20-year-old wide-smiling kid stepped up and delivered the gutsiest and most clutch performance in NBA history.
The rookie (and I'll say it again, rookie) dropped an absurd 42 point, 15 rebound, and 7 assist stat-line, the likes of which Jordan, LeBron, and Bird had never put forth even in their primes. Magic played every position on the floor and single handedly delivered the Lakers an NBA championship — their first in the Kareem era.
Let's review: a rookie, leading his team to the championship with a 45-15-7, doing it without a top-five player of all time, and winning Finals MVP honors. Unheard of.
Let's stick to iconic moments for a moment (for a moment, for a moment). I'll take you back to 1987. UVO, play jukebox. And then I imagine the song would be Whitney Houston's "I Wanna Dance With Somebody" or Bon Jovi's "Livin' On A Prayer." Kia commercial and Blake Griffin references aside, 1987 was the year after the Celtics had won the NBA championship with a team that was considered one of the all time best. Bird was labeled the best player in basketball, as he had won the league's MVP the past three seasons.
1987, however, was the year Magic usurped Bird's title of NBA's alpha dog. Heading into the playoffs, Magic just came off of his first regular season MVP season in which he averaged 24 points, 12 assists and six rebounds. Not too shabby.
Magic met a familiar foe in the NBA Finals, the defending champion Boston Celtics. This was the third and final time the two teams faced off in the NBA finals with both Magic and Bird each winning once. It was the rubber match, and the winner would claim the title best player in the world. Now, here comes the iconic, career defining moment.
With the Lakers leading the series 2-1, Game 4 was crucial for the Celtics. In a wild game that saw the Lakers storm back from 16 points down in the third quarter and then have three lead changes happen in the last 45 seconds, the Celtics led 106-105 with seven seconds remaining.
The Lakers had the ball along the baseline. Magic caught the inbounds in the left corner, about twenty feet from the basket. With McHale on him, Magic dribbled back, hesitated, and drove toward the middle of the paint. With two seconds left, Magic shot a hook shot over McHale and Parish. Nothing but net, and the Lakers went on to win the game.
This would be later known as the "baby skyhook" game. The Lakers ended up winning the series 4-2, and Magic earned NBA Finals MVP, averaging a ridiculous 26 points, 13 assists and 8 rebounds on 54% shooting! His finals performance, and victory, as well as his MVP season, established Magic as the best player in the NBA.
From this point on, Magic was clearly better than Bird. In 1987-1991, Magic made the Finals four times, won two NBA championships and three MVPs, established himself as a big time clutch scorer and single handedly kept his aging Lakers team (Kareem, by this point, was definitely on his way down) among the NBA's best, winning 60 games per year.
Bird, on the other hand, lost his position at the top and never made another NBA Finals appearance again. In fact, in 1992, he retired due to back problems. At this point, Magic was still on top.
SQ: Bird didn't beat Magic at his peak because his body failed him. If Bird stays healthy (admittedly a big "if"), I think he beats Magic one or two more times. If Len Bias hadn't died, I think the Celtics DEFINITELY beat the Lakers at least once. Remember, Coach K once said that of all the players he ever coached against, the two that stood out were Michael Jordan and Bias.
If Bias plays, I think the Celtics add at least another banner or two, and three MVPs and two titles in a three-year span is ownership of the league even if it constitutes one loss to a rival. That's LeBron's current three-year stretch and I don't think you'd argue against that. 
I don't see how the '89 MVP is justifiable. Jordan put up 32.5-8-8. That might be the greatest post-merger stat line ever. Who cares if he won 45 games? He did it with a rookie Scottie Pippen and a second-year Horace Grant as his second and third best teammates. Do you realize how impressive that is? At least Kobe had Lamar Odom in his prime when he scored 35 points per game and was robbed of an MVP.
I'm all for giving MVPs to guys on 60-win teams, but when you drag a horrible supporting cast to the playoffs, you deserve credit, too. As for 1990, I think the voting tells the entire tale. Charles Barkley had 11 more first place votes. The award is "MOST valuable player," and the MOST people thought Barkley was the MOST valuable player. He got robbed. 
I know we're grasping at straws at this point, but I'd hardly call Magic's game the MOST clutch of all time. If we're being fair, LeBron's 45-15-5 and 29 out of 30, MJ's 63 in Boston, the flu game, the entire '93 Finals and Game 6 in '98, Hakeem's 49-25 and Russell's 30-40 are all in that stratosphere.
But if we're talking about clutch, it's not like Larry Bird doesn't have his moments. The steal, the duel with Dominique, two Finals MVPs and several buzzer beaters. Bird's clutch resume is just as good as Magic's, if not better. 
I hardly think that the '87 Finals served as a "winner is better" type of series. Remember, even if McHale's foot didn't kill him statistically, it hampered him in the low post AND made it harder for him to play help defense on Kareem. By that point, Bird had been better for the entirety of their careers.
Bird was better from '79-'86. Even if Magic took the torch from '87-'91, Bird's period on top was still greater. Maybe Magic took the torch from Bird at the time (though in his defense, his body started breaking down at that point and he wasn't quite the same), but he certainly didn't in a historical sense.
Here's something else to consider. Look at their peak years:
Bird ('84-'85): 28.7 PPG, 10.5 RPG, 6.6 APG, 52.2 FG%, 42.7 3pt%, 26.5 PER, 10.5 Offensive Win Shares, 5.2 Defensive Win Shares.
Magic ('86-'87): 23.9 PPG, 6.3 RPG, 12.2 APG, 52.2 FG%, 20.7 3pt%, 27 PER, 12.1 Offensive Win Shares, 3.8 Defensive Win shares
Personally, I'm taking Bird's peak. He was a better rebounder, scorer (with much more range on his shot) and defender. I don't think Magic's passing (which Bird was also brilliant with, by the way, his assist numbers just aren't as inflated as Magic's because a lot of his passing came to big men who would take their time in the post rather than quick shots or layups on fast breaks) makes up the difference there.
MS: We could play the "what if" game all night long, but I don't think it is enough to constitute a legitimate argument. Bird did not stay healthy. Len Bias, unfortunately, was unable to play for the Celtics, and jumping to any conclusions regarding if he did, especially ones that involve titles and MVPs, is immature.
We're given the history of what we have, not what could have been. You can't say that Bird had four rings, because maybe something would have happened if he weren't injured. The bottom line is he did not have four rings. He had three.
I'll get back to rings in a moment. Magic's game was the most clutch because Kareem, the team's best player at the time and an all time top-five player, was injured. It wasn't just that Magic's numbers were outrageously phenomenal — it was his ability to single-handedly clinch the NBA Finals for his team. Russell is the only other player on that list who could be discussed in the same way since his 30-point, 40-rebound performance came in an NBA Finals clinching game as well. Magic brought his team a ring for the first time since Wilt Chamberlain played for the Lakers.
And here we are, at one of those discussions you can never escape from when talking about the greatest players of all time. Rings. They typically separate the great from the legendary.
Magic Johnson won five NBA championships, Larry Bird won three.
When two players are so similar and their overall abilities are seemingly equal to the other's, number of titles won is generally the deciding factor regarding who is considered to be better. This is the case with Magic and Bird. Magic won five, including two against Bird, whereas Bird won three, with only one coming against Magic.
Additionally, Magic's Finals appearances, as well as his basketball abilities, lasted over a longer time period than Bird's. Magic played 12 years (we'll leave out 1995-1996 since he had retired for four years beforehand, and also because he only played 32 games that season), and made the NBA Finals nine times. Nine times! That's an astonishing number, and it truly reveals Magic's status as a supreme superstar.
Not reaching the Finals was rare for Magic, and when Magic was there, he won it five times. It's also important to mention that Magic repeated as an NBA Champion; Bird never did. That is a testament to the constant production Magic provided for his team, as well as his always-present desire to win.
Bird played 13 years and made it to the Finals five times (four less than Magic, with a frequency of 38%), and won three rings (two less than Magic). His titles and Finals appearances came within a six year span, lasting from '81-'87. After '87, from the years '88-'92, Bird never came close to reaching the finals again.
Bird was great from '80 to '87, and like you said, had a two year peak of '84-'85. Magic had a similar two year peak period ('86-'87), but his greatness lasted from '80-'92. That's five extra years!
In those years that Bird became somewhat of an afterthought ('88-'92), Magic made the Finals twice and won the MVP award twice. Also, Magic made it to the Finals in his first ('80) and last ('92) years in the league, demonstrating how great Magic was throughout his career.
I conclude (not a high school English paper, so I can say it) that the two significant determining factors in deciding who was better is NBA championships won and longevity. Magic Johnson wins both of these categories, and thus, should be recognized as a better player than Larry Bird.
SQ: You know I have big issues with the ring argument. Now, basketball is the one sport where it really does hold SOME merit, but come on, it's a team game, and to use rings as the deciding factor between two players at this level just seems lazy. Five guys are on the court, nine or ten per team get big minutes, and even though both guys obviously had great teams, I'd argue that Magic got a bit luckier.
I love Kevin McHale and Robert Parish. They're legends. Same goes for DJ on a smaller scale, but really, all of those guys are on James Worthy's level. James Worthy is a legend, too, but he's not in the pantheon that the two guys we're arguing about are. You know who is? Kareem Abdul-Jabbar. You could make a very convincing argument (in fact, it'd be one that I buy into) that Kareem was better than both Magic and Bird. Magic got to play with him, Bird didn't. 
How many of Magic's rings do we equate to playing with Kareem? Is it a Kobe and Shaq situation where it's unclear when the former took over for the latter and we don't really know how much either meant to their titles in relation to the other?
It's a fair argument. Larry Bird was the best player on all of his title teams (even though Cedric Maxwell weirdly won Finals MVP in '81, but look up the stats, Bird was a better player). In that regard, it's kind of like arguing Tim Duncan vs. Kobe Bryant. Kobe might have more rings, but Duncan's are more meaningful.
But enough about rings. We've argued this pretty much every way you can and, at least in my mind, have come to a pretty simple conclusion: Larry Bird was better at his peak, Magic Johnson was great for a longer period.
Personally, I'm a believer in peaks. I judge guys based on how good they were at their best. Not that longevity doesn't matter, I just think I'd rather have the truly better player even if it means losing a few years. Does that mean Bird had the better career? In my mind, it does, but you obviously disagree.
I guess it's up to the readers to decide which they prefer. Share your feelings in our comments section below!
By: Sam Quinn and Macklin Stern
Twitter: @Rhinos_Cry_Too (no Twitter for Macklin)