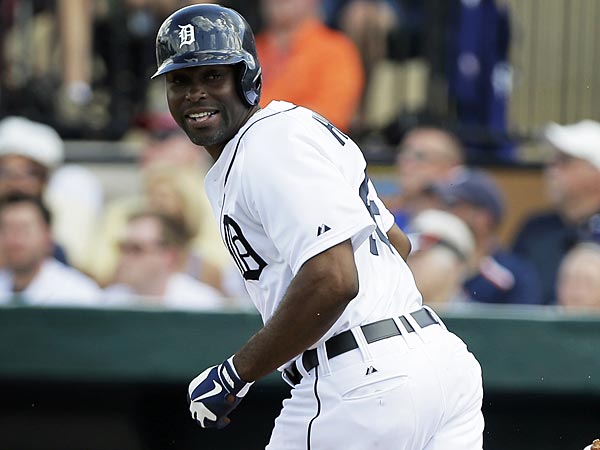 With only a handful of profiles left we turn our attention to the AL Central, a division that provided us with two playoff teams last season. 
Surely this is Detroit's division to lose, but can Terry Francona keep the Indians relevant after shocking the baseball world last year? Can Kansas City threaten for the wild card spot? Let's take a look at this mix of young players with potential and a couple of veterans who are winding down.
Detroit Tigers
Player to watch: Torii Hunter
Torii Hunter will turn 39 years old this July. Heading towards Opening Day he's enjoyed a 17-year career between the Minnesota Twins, Los Angeles Angels, and now the Detroit Tigers. When the Angels had no interest in bringing him back for the 2013 season, Hunter penned a 2-year/$26MM contract with the defending AL Central champions.
To say his production in 2013 surprised only a few would likely be tagged an understatement, unless you watched him hit in 2012. Otherwise you might understand how he was able to hit as well as he did.
2012: 584 plate appearances; .313/.365/.451, 24 doubles, 16 home runs
2013: 652 plate appearances; .304/.334/.465, 37 doubles, 17 home runs
While his average and on-base percentage dipped a bit in 2013, he put up noticeably more doubles, and even five triples. While he's lost a step in the outfield and won't make his trademark home run-saving catch as often, Hunter is at the very least a reliable defensive player.
He's never been to a the World Series in his career, and he's certainly not getting any younger. This is his last season under contract, but he wants to play a little while longer. If his numbers are similar to those of last season, he won't have an issue finding work.
Cleveland Indians
Player to watch: Danny Salazar
From the veteran experience to the potential breakout pitcher, we move on to Cleveland's starting pitcher Danny Salazar.
Last season saw him make 10 starts spanning over 52 innings. He showed enough to warrant the start in a win or go home game against the Tampa Bay Rays. They lost, but Terry Francona sees a lot of promise in Salazar. Based off last season, it will be exciting to see him get a full season under his belt. The slash line is of ERA/ERA-/FIP-.
2013: 3.12/81/83. 30.8K%, 7.1BB%
Yes, the small sample size of 52 innings surely shows an inflated strikeout rate, but Fangraphs expects it to hover in the mid-20s. For what it's worth, his strikeout rate over 13 starts in Triple-A was an exemplary 33.9%. The kid has the stuff to be good, now we'll see if he can do it over the course of a full season.
Fellow starter Justin Masterson is going to be the Opening Day starter, barring any setbacks. After that, though, expect to see Salazar in the second or third spot. If he can sustain the numbers he posted in limited action last year, there's no reason he can't be a reliable 2 or 3 going forward. On the chance that he can improve them substantially, the 24-year old has a future as an ace. Time will tell.
Kansas City Royals
Player to watch: Eric Hosmer
Which Eric Hosmer will show up this season? Kansas City and their fans are hoping it's the one who went on a tear at the plate in the second half of 2013 to finish with a slash line of .302/.353/.448. While he showed promise during his rookie campaign in 2011, he regressed substantially in 2012 before bouncing back in 2013.
2011: 563 plate appearances; .293/.334/.465, 19 home runs
2012: 598 plate appearances; .232/.304/.359, 14 home runs
2013: 680 plate appearances; .302/.353/.448, 17 home runs
Career: 1,841 plate appearances; .277/.332/.425, 50 home runs
What's clear is that Hosmer is good for 15-20 home runs per season. What isn't clear is if Hosmer can stay consistently productive at the plate. A slash line similar to the one he put up last season is what the Royals will be expecting out of the 24-year old. After all, he was the 3rd overall pick in the 2008 amateur draft.
He still has buckets of potential, and the Royals need all of the production they can get out of their young players if they are going to threaten for an AL wild card spot. It will be a tough mountain to climb, however, as they are looking way up at the Tigers and are still weaker than the Indians on paper.
Here's the catch with Hosmer: while plenty of fans and coaches would love the end result of his 2013 numbers, he better not wait until the second half of the season to turn it on.
Minnesota Twins
Player to watch: Ricky Nolasco
Ricky Nolasco was one of two free agent starting pitchers to land in Minnesota, the other being former Yankees pitcher Phil Hughes. What doesn't help Minnesota regarding the acquisition of Nolasco is their stadium. While Target Field is in the middle of the pack as far as hitter-friendly parks go, Nolasco is used to pitching with the Marlins and Dodgers – both of whom occupy large, pitcher-friendly stadiums.
Nolasco's career ERA/ERA-/FIP- numbers aren't all that promising when you study them, but he does eat up plenty of innings.
Career: 4.37/108/92, 19.3K%, 5.5BB%
While the lack of walks is encouraging, Nolasco doesn't strike out nearly enough hitters to make up for his ugly slash line. Then again, his lack of strikeouts is one of the reasons why he's racked up 200 innings twice in his career and on almost three other occasions.
Nolasco is going to be the Twins Opening Day starter. He's an innings eater, but in this day and age you want to invest $49MM over four years into more than just someone who goes deep into ballgames. That being said, the Twins needed pitching in an attempt to turn around their 66-win season in 2013. Although small, this is a step forward.
Chicago White Sox
Player to watch: Adam Dunn
Rounding out our AL Central profiles is the feast or famine that is Adam Dunn. While his batting average has usually been less than stellar, Dunn has made his money as a home run hitter. Since the 2004 season, with the exception of 2011, Dunn has hit 34 or more home runs per season. I'd throw $10MM at him for that alone.
Yet it's because of his last three seasons average-wise that have got people thinking: 'Is he winding down?' Well, let's take a look at the numbers, with career totals first followed by his previous three seasons.
Career: .238/.366/.495, 440 home runs, 28.4K%, 15.9BB%
2011: .159/.292/.277, 11 home runs, 35.7K%, 15.1BB%
2012: .204/.333/.468, 41 home runs, 34.2K%, 16.2BB%
2013: .219/.320/.442, 34 home runs, 31.1K%, 12.5BB%
A career on-base percentage of .366 is excellent, considering Dunn hovers around 200 strikeouts per season. However, his last three seasons show a tremendous discrepancy from his career mark.
Adam Dunn is 34 years old and will be a free agent at the end of this season. Depending on how he does, I wouldn't count out the White Sox giving him another year or two. Regardless, he's still capable of hitting 30 home runs. That alone is worth an AL team going after him on the grounds that he'd be the designated hitter.
It's the tremendous slip in average that has impacted his OBP the most. While Dunn is never going to hit for a .300 average (he's never even cracked .270), hitting .240-.245 shouldn't be too much to ask. He'll walk 80-100 times, strike out 170-200 times, but hopefully he'll hit 30-40 home runs. That's what he gets paid to do.
On a team that lacks plenty of offense, the White Sox will again be relying heavily on Dunn's bat for production.
All statistics courtesy of Baseball Reference and Fangraphs