Fixture week four of the English Premier League provided us with plenty of action to discuss. Arsenal and reigning champions Manchester City arguably played the match of the weekend, Diego Costa continued to rip apart any and all narratives suggesting he'd struggle during his first year in England, and the Saints of Southampton showed maybe they're going to be alright after all, despite their mass exodus this summer.
And of course, as always, there were a couple of surprises to enjoy.
The Battle of the Weekend
Last week the defending champions dropped a match at home against Stoke City. That said, Arsenal came into this contest having looked very average three matches into the young season. So still, despite being away, my money would have still been on Manchester City.
That was reaffirmed when Arsenal went one down, only to retaliate with two delightful goals from Jack Wilshere and newcomer Alexis Sánchez. Clinging to a one-goal advantage late, City dug deep and equalized on a set piece through Argentine defender Martín Demichelis—because of course.
This early in the season, I'd call taking a point from the champs a success for Arsenal. They just need to show this level of performance against the weaker sides like Crystal Palace—whom they squeaked past in week one—and Leicester City. As for City, they've looked shaky at times to start, but a point against a top four squad should never be taken for granted. This is one scary side when they all get clicking; it's only a matter of time.
Costa Carves up the Swans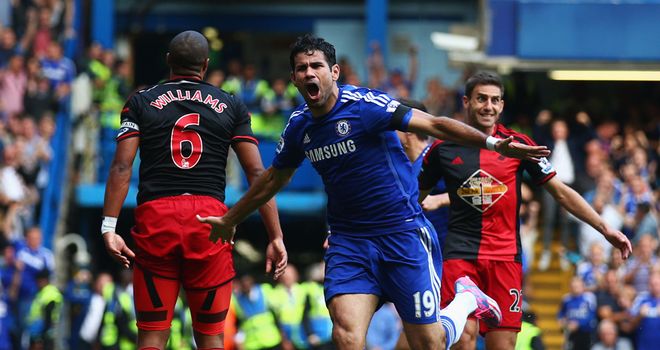 Both Swansea and Chelsea had taken nine points from their first three matches heading into Saturday's bout, so naturally, something had to give. What gave way was Swansea's defense.
They couldn't have gotten off to a brighter start, however, when captain John Terry committed an own goal. Just on the edge of half time, though, former Atlético Madrid striker Diego Costa made his mark. He'd be far from finished on the afternoon, as he went on to tally two more goals in the second half.
That hat trick gave him seven goals on the season after just four matches. And if you think that's impressive, star midfielder Cesc Fàbregas has six assists to his name. Plenty of the creativity can be credited to Eden Hazard, who may not have been on the score sheet but provided plenty of opportunities for his teammate.
In total, Chelsea has scored 15 goals thus far this season. No other club has 10. Isn't the narrative that they're supposed to be boring? Also, I thought Costa was going to struggle to adapt? So far, that hasn't been the case.
The Swans will look to get back on track against the Saints, and that might not be such an easy task.
The Saints Keep Rolling
Or marching, if I may. Sure it was against Newcastle United, who continue to underwhelm, but Southampton did more than just take it to them with a 4–0 lashing on Saturday.
After losing their week one match against Liverpool, despite a gutsy performance, the Saints have won two in a row following their week two draw against West Brom. And, they did it in style against a lackadaisical side led by Alan Pardew.
Surely his seat is getting hotter, as through four games his club sits dead last in the table. They also have the worst goal differential of any side thus far (-6). Sure, it's a long season, but Newcastle has looked underwhelming for quite some time.
The same cannot be said for Southampton, though. New boss Ronald Koeman seems to have freed his men even more so than Mauricio Pochettino appeared to last season—especially by showing the aggression to play his typically deeper-lying midfielders more forward. So far, they're taking their chances very well and find themselves sitting fourth in the table.
Can they keep up the promising start?
Don't Sleep on the Foxes
Seriously, don't. It's probably a really bad idea and you don't know where those animals go at night. Theoretically speaking, of course.
Anyway, back to the match. The Foxes of Leicester have five points through four matches, with this win against Stoke and a draw against both Everton and Arsenal. Imagine how fantastic that is for them for one second. Really.
They are currently sitting in the middle of the table, and if they can keep up this spirited play, relegation won't touch them. Gary Lineker, I'll keep you in mind as your former team continues to surprise.
What Can We Make of These Villans?
They defend pretty damn well, that's for sure. Liverpool appeared to have spent a lot of money over the summer, but they seem to have spent it wisely. They didn't splash too much for one particular player. Rather, they strengthened each position and solidified their depth for European football. Their system has thrived early on at times—most notably against the Saints and Tottenham.
But on Saturday they weren't asking the right questions or creating the opportunities we've grown accustomed to seeing from them over the past several months. But for a moment, let's focus on the Villans and their ability to defend.
So often nowadays, fans groan at the concept of defending. They paint it as boring or playing the game incorrectly, which doesn't make sense. Not every team in every league will be able to press as well as the top sides; it just won't happen and you cannot realistically expect it to. No, Villa won't make you jump out of your seat every week, but who cares?
If they keep winning matches like this against teams that are expected to roll over them, then maybe they will get you to jump. So far, they've taken 10 points from four matches. While they've only scored an average of one goal per match, they've also only conceded one in total. It's a dream start for the Villans, who were oh so close to relegation last season.
Slowly Remove Your Finger From the Panic Button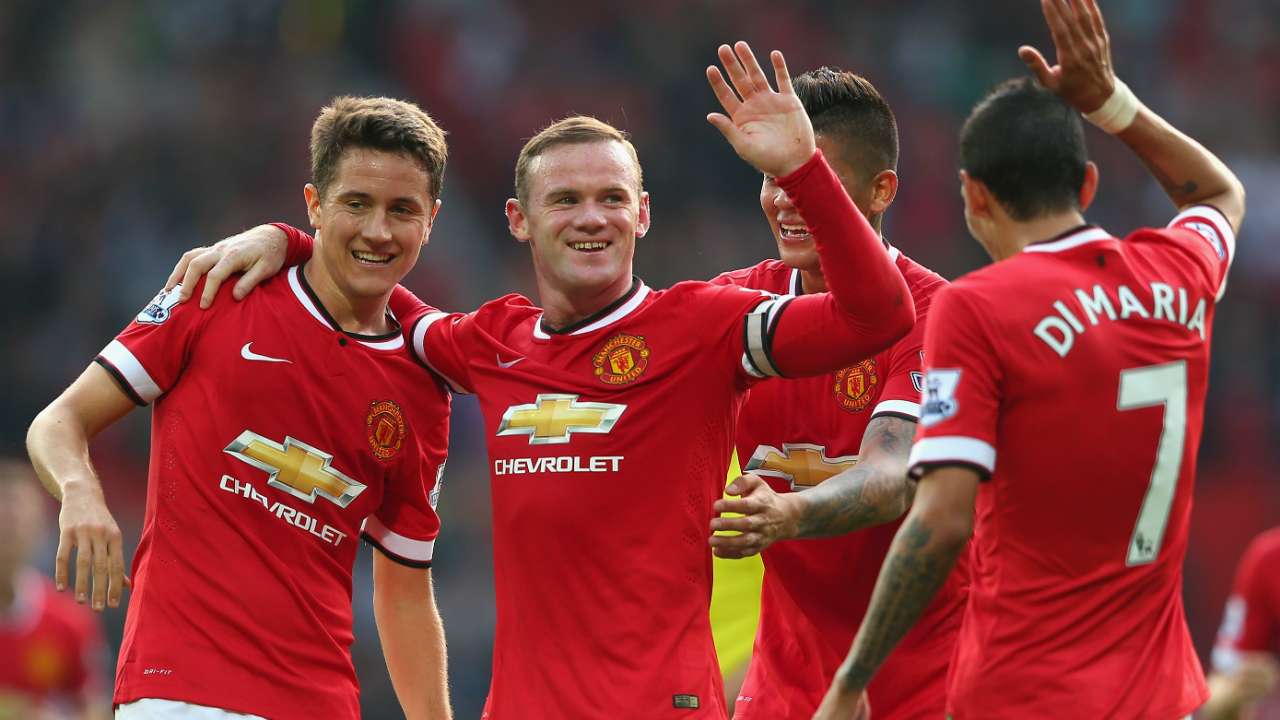 And finally, for the time being at least, fans of that club in Manchester can take their finger off of the panic button. It was looking fairly dire there for a moment, wasn't it? A loss to Swansea followed by two uninspired draws to Sunderland and Burnley was not the way anyone expected their season to start.
Sunday was a different story as Louis van Gaal's side took on the apparent cure-all that is QPR. As the match pressed on, one thing was clear: QPR is really bad at this sport. They were three down by the break and van Gaal look determined to see his side score more. They could have had six or seven from where I'm sitting, but I'm sure they and their fans will take the win they got at Old Trafford.
New arrival Radamel Falcao made a cameo appearance late in the second half, but the match belonged to superstar Ángel Di María and former Ajax man, Daley Blind. Whenever Di María was off the ball, he was busy creating space. Whenever he happened upon it, he was infinitely more dangerous. As for Blind, he was a force as a holding midfielder and showed that he had the ability to get forward.
It should be noted that LVG abandoned his three-back system for this match, going with a more fluid 4-4-2 formation. One couldn't argue with the results on this day, and if he can get this side playing like that consistently, Manchester United will again be the threat they once were not so long ago.