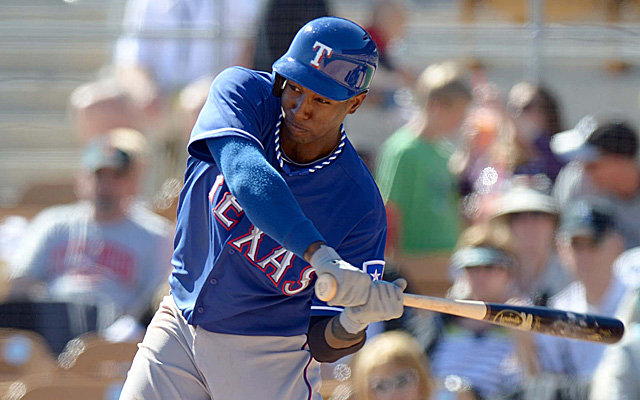 How much would it take to trade for Jurickson Profar? Apparently, a lot. (Credit)
Besides the run in 2000 which I was far too young to either understand or enjoy, I've had exactly one fun season as a New York Mets fan: 2006. That was the year where they traded for Carlos Delgado and Paul Lo Duca and signed Billy Wagner. They won 97 games, and only one NL team came within 10 wins. They dominated the Los Angeles Dodgers in the NLDS and lost the championship series to the St. Louis Cardinals in seven games. They seemed destined to rule the NL East for at least three or four years.
Only, that's not what happened. The Mets collapsed on the final day of the 2007 and 2008 seasons and fell out of contention entirely in 2009. But do you know what I remember most from that stretch? Not Tom Glavine's debacle against the Marlins; not Jose Reyes or David Wright looking like MVPs; not even Endy Chavez's gravity-defying catch to save Game 7 for another few innings. What I remember most is the morning of July 31, 2006.
I spent most of that morning watching a trade deadline edition of Baseball Tonight. Let's ignore the fact that a year prior, the Mets supposedly killed a potential Manny Ramirez deal over the inclusion of a second minor league prospect. On this day, I was focused on another star. A pitcher. Someone you might have heard of by the name of Barry Zito.
Before he became a punch line, Zito was one of the best pitchers in baseball. He was the kind of guy who could anchor a playoff rotation, someone who, because of the decline of Pedro Martinez, the Mets didn't have. The deal was simple: if the Mets would have given up their top prospect, they would've gotten Zito. The Mets declined, reportedly not even offering up No. 2 prospect, Mike Pelfrey.
The Mets came one pitcher short in the NLCS. They were forced to start (gulp) Steve Trachsel in Game 3. He gave up five runs in the first two innings, effectively losing the Mets the game. He was so bad that the Mets skipped him in the rotation in favor of Oliver Perez in Game 7. The Mets would have won the World Series if they would've traded for Barry Zito. Instead, they held onto the young guy.
The prospect in question? Lastings Milledge.
That's right, Lastings Milledge. You know, the star center fielder for the Mets who, in his young career, has already racked up several MVPs and World Series rings. Oh wait, he's playing in Japan.
World Series windows tend to close in the most abrupt and unceremonious of ways. I can't imagine Willie Randolph and Omar Minaya expected theirs to be slammed in their faces so embarrassingly, but it happened. And they aren't the only team to see this happen.
Last year, the Washington Nationals made a move that would have caused riots had it happened in Boston or Detroit: they shut down Stephen Strasburg before the playoffs. And then they lost in the playoffs. Now, they're sitting at .500 in the loaded National League wondering if they'll even make it back to the playoffs this year. Their window isn't shut, but they have to be wondering if they should have gone all in last year when they had the chance.
So, why am I writing about this now? Because a few of these decisions changed the entire landscape of baseball this year. I'll start by commending the Kansas City Royals, who pushed their chips into the center of the table by giving up vaunted power hitter Wil Myers for the former Tampa Bay Rays pitcher James Shields.
Forget about winning the World Series for a minute: if you're the Royals, you're happy just to compete for a playoff spot, and how many chances at that are you realistically going to get? So what if Wil Myers is hitting 45 home runs per year? Your fans won't care if the team is winning 70 games. The Royals saw an opportunity to compete and they took it, and now they're neck and neck with the Detroit Tigers for the AL Central lead.
On the other end of the spectrum, Kyle Lohse went unsigned into Spring Training because teams didn't want to give up a draft pick for him. You're telling me that Detroit, a team with an 83-year-old owner and bottomless pockets, couldn't have shored up the Rick Porcello spot in their rotation with Lohse, a guy who has morphed into a borderline ace over the past few years?
But we aren't here to talk about Lohse and Shields. In the grand scheme of things, they're small fries. Time to talk about the big kahuna, and really, there's only one thing you need to know:
The Texas Rangers could have traded prospect Jurickson Profar for Justin Upton in December and they said "no."
You would think, considering both their collapse last year and their two World Series losses, that the Rangers would understand the fragility of contention. It's also fair to assume they'd know that since the turn of the millenium, no team besides the 2010 San Francisco Giants has won the World Series without a legitimate star in the three-hole of their lineup.
Now, the Rangers are batting Lance Berkman third. They're starting Leonys Martin in center field. Neither of these things would be happening with Justin Upton. And Jurickson Profar? He's not even in the MLB.
Unless you have a Bryce Harper caliber prospect (as in, someone who has been called the LeBron James of baseball), you should never give up a sure thing for a gamble. We know Justin Upton is an All-Star. We don't even know if Profar is a Major Leaguer. Even if he is, the Rangers have Elvis Andrus locked up at short, Adrian Beltre at third, and Ian Kinsler at second. He has nowhere to play.
I don't know how far the Rangers are going to go this year. At 21-13, they could very easily make a decent run. I just know that two things are certain. The first is that at some point, whether it's in 2013 or 2023, the Rangers are going to fall out of contention. And when that happens, they're going to wish they would have done everything possible to win the World Series when they had the chance.
Second? There is going to be a point this season, whether it's an August divisional showdown against Oakland or an ALCS trip to Yankee Stadium, or even the ninth inning of a World Series game, where Lance Berkman or Leonys Martin will come up to the plate and Rangers fans will think to themselves, "damn, I wish Justin Upton were up here."
And when the Rangers get knocked out this October for falling one bat short? Just remember the lesson of the 2006 Mets: you never jeopardize a shot at the World Series for the promise of tomorrow. There's an outside chance another game-changer hits the market by July: Giancarlo Stanton. If he does, let's hope the Rangers realize this before it's too late.
By: Sam Quinn
Twitter: @Rhinos_Cry_Too