Manny Machado is 22 years old, for what it's worth, and is already experiencing some very serious knee issues. Meanwhile, does a season-ending injury to a Los Angeles Angels starter cast their division title hopes into doubt? And how's the playoff picture looking for those Detroit Tigers? Spoiler alert: Outlook could be better. We're almost into the final stretch. No, seriously, we're almost there. It's time for the Wind Up.
What's Going on, Manny?
Barring a major collapse, the Baltimore Orioles are heading to the postseason. After that, it's anybody's guess as to what will happen, which makes this week's news a bit tougher to take if you're a fan. Third baseman Manny Machado is ​likely done for the season due to another knee injury.
The recovery from his season-ending knee injury last year pushed back the start date for the 2014 season, and it was evident that he wasn't quite settled at the plate when he took to the field on May 1. Defensively, there has never been a doubt with the kid, but through June all he could muster at the plate was a line of .239/.291/.371.
As of August 11, the last time he played, he left with his season's line trending up: .278/.324/.431. It appeared his confidence and ability at the plate resurfaced as we got into July and August, but now the Orioles look to be without his services again. It's time for the rest of the team to step up, most notably one of the subjects of my next talking point.
I Picked Chris Davis and Joey Votto for my Fantasy Team
Chris Davis is 28 years old; during the 2012–13 seasons, he hit .278/.348/.568. He even earned himself MVP talk amongst Miguel Cabrera and Mike Trout, as silly as that may sound. I thought, "Surely, he can do this for another season" and drafted him very early on. Also, I may have felt the need to take a chance on him after turning down a trade for him at the beginning of last season.
Fast forward 108 games later, and Davis has a horrific line of .192/.294/.392. Sure he has 21 home runs, but he's moved to sev​enth in Baltimore's batting order and has looked entirely lost at the plate all season. Don't worry, it gets better.
Rather than making a different decision when push came to shove, I now appear to have doubled down on my tumultuous first basemen. Let's talk about Joey Votto of the Cincinnati Reds. He's 30 years old, the Reds are miserably inconsistent, and Votto has nine years remaining on his contract with a price tag of $206 million. That's fine, right? I mean, what could possibly go wrong?
Oh, well, his season was shortened to 111 games in 2012 and he's currently played in just 62 this season. Obviously, Reds fans are restless. With that kind of contract, they feel they deserve more. Votto is res​t​less too:
"I feel like this is something I've had hanging over me in the general population, the fans, I think it's a toughness, or playing through pain sort of thing, or playing hurt sort of thing. I've been injured. I played injured. I went on the DL because I'm injured. I'm trying to be un-injured now… I didn't elect to be injured."
If you happen to listen to the au​dio of the interview, Votto is fired up—which is more than can be said about the rest of his team, now 62–68 on the season entering play Sunday. He's disappointed, upset, and clearly bothered by the fan's perception of him. He's hit .255/.390/.409 when he has played this year. That on-base percentage is a thing of beauty, isn't it?
My fantasy baseball team is not, particularly at first base.
Garrett Richards Down, Los Angeles Angels Out?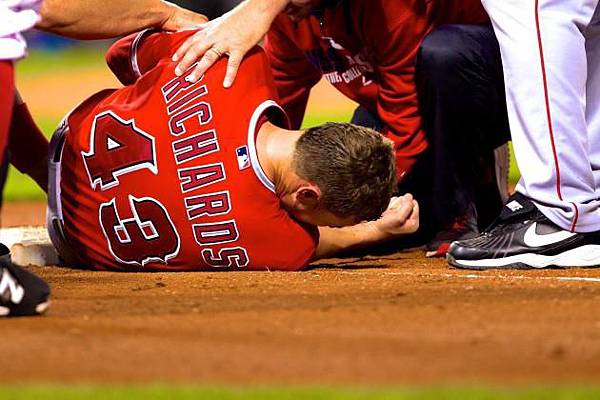 There's no reason to go waving the white flag yet, Angels fans. That said, the se​ason-ending injury suffered by sudden ace Garrett Richards does little to help temper those kinds of reactions.
In a Wednesday night game against the Boston Red Sox, Richards tore his left patellar tendon as he went to cover first base. The recovery time for that type of injury is anywhere between six and nine months. That's less than ideal, especially when you consider the 26-year-old was having his best season ever.
In 26 starts this season, Richards had an ERA/ERA-/FIP/FIP- of 2.61/71/2.60/72 with a strikeout rate of 24.2 percent. He had helped propel this Angels side to first place in the AL West standings, a place they still maintain, but only just.
And to think, that injury occurred on a play that pitcher's execute hundreds of times per season.
The Who Did What to Koji?
Despite how terrible the Boston Red Sox have been this season, closer Koji Uehara has still shown the ability to close out games when he's called upon. At 39 years old, the numbers he's put up have still been noteworthy: 2.28/57/2.66/67 with a strikeout rate of 32 percent—not to mention, an incredible walk rate of just 3.2 percent.
So how in the hell did the Seattle Mariners rally for five two-​out runs to defeat Boston 5–3 at Fenway Park on Friday night? Because it's been that kind of season for the Mariners, and just the opposite for the defending champions.
The Tigers are Starting to Slip
While it's fairly reasonable to be worried about the Angels losing their grip on the AL West crown, even more doubt should be thrown the way of the Detroit Tigers. Since acquiring David Price from the Tampa Bay Rays, things have not gone well. Our own Sam Quinn wrote about how their front office decisions ​have been building to this.
The gist: Justin Verlander is breaking down, Miguel Cabrera isn't quite as productive as he has been the previous two seasons, and they have a lot of money tied up in only a handful of players. The end of their AL Central dominance might be nigh, and they've yet to win a championship with the current team in place.
As it stands, the Kansas City Royals have a three-game edge on them entering play Saturday. Detroit also finds themselves one game back in the wild card chase. They need to turn it around, and quickly. After all, that top-tier pitching has helped so much recently that they gave​ up 32 runs to the Minnesota Twins in the last two games.
I Almost Forgot the Red Sox Have Money
Earlier this week, the Red Sox signed 27-year-old unproven Cuban outfielder Rus​ney Castillo to a six-year, $72.5 million contract.
His 2013 n​umbers in Cuba look like this: .332/.401/.545, 16 home runs, 22 stolen bases. Not too shabby, right? Well, before you rant and rave, the Dave​nport Translation of these numbers look like this: .237/.276/.390; nine home runs, 15 stolen bases. Ouch.
But hey, if anyone can live with that potential financial mistake, it's Boston.
Maybe it's Time to Rest Jean Segura
And I don't just mean for a da​y or two.
Let's get one thing straight: I love Jean Segura, the 24-year-old who plays shortstop for the Milwaukee Brewers. He's fun to watch defensively, and in 146 games in 2013 he hit a solid .294/.329/.423 with 20 doubles, 10 triples, 12 home runs, and 44 stolen bases.
That said, on June 1 of last season his batting average stood at .352. It was down to .325 at the start of July, .317 at the start of August, and .301 come September before finishing at the .294 mark. Was he rushed to the majors and simply burned out? Possibly, and his slash line of .232/.270/.316 in 116 games this year has only compounded the pressure.
So, yeah, he's had a rough season, but the least of that has occurred on the field. Just before the All-Star break, Segura's infant son lost his life. How he could come back and play baseball almost immediately after something like that is beyond me, but here he is. Despite the offensive struggles, he's usually a plus defender. But a two-error game Friday night and other factors manager Ron Roenicke has noticed has earned the kid a day off.
An extended rest shouldn't be ruled out, in my opinion, and I genuinely mean that in the sincerest possible way.
Josh Harrison Versus the World
Speaking of Friday night, when the Pittsburgh Pirates were brutalizing the Brewers, I o​bserved that utility man Josh Harrison could be the "best baseball player ever" if he played against Milwaukee every game. To this point in the game he had a couple of hits, a few runs batted in, and he even managed to make a tremendous play at third base which took away a hit from Carlos Gomez in the process.
Then in the top of the ninth inning, he hit a two-run home run just for the hell of it. After looking​ up the numbers, however, it appears my lighthearted (but still fairly serious claim) wasn't too far off. He's had 34 plate appearances against Milwaukee this season—the most against any team. In them, he's managed a line of .333/.353/.636 with two home runs and 11 total hits.
Isn't baseball fun?